Hundreds of ICCB-ECCB attendees filed into the Berlioz Auditorium on the opening night of ICCB-ECCB to celebrate the winners of the SCB Service Awards.
Stacy Jupiter won SCB's Early Career Conservationist Award for her work in Oceania on the human activities on linked tropical coastal ecosystems and ecosystem services, and the effectiveness of local management on achieving conservation, livelihood and well-being outcomes.
"It is a great honor to be recognized for my work in Oceania, but in truth I have mostly been just a conduit delivering information to local communities and governments faced with tough decisions about managing a myriad of threats affecting their biodiversity and livelihoods," Jupiter said. "It has been a privilege to interact with these decision-makers across the Pacific who are the true champions of biodiversity and stewards of the Earth's resources"
SCB presented the Edward T. LaRoe III Memorial Award to Sue Miller-Taei for her work in the South Pacific where she has helped to design the region's first large scale marine protected area in Kiribati. She has designed and led regional and site conservation initiatives in the South Pacific for more than 30 years.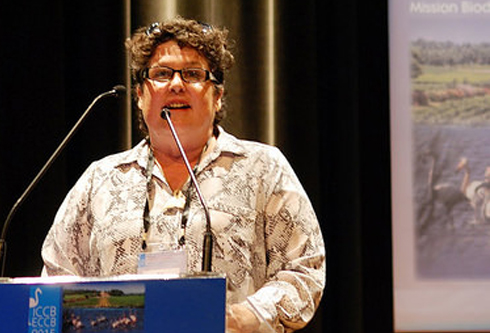 Sue Miller-Taei delivers a talk after receiving the Edward T. LaRoe III Memorial Award, which recognizes innovative application of science to resource management and policy.
The Society awarded three Distinguished Service Awards, which recognizes individuals, groups or institutions for distinguished service in any field associated with conservation biology and whose work furthers the mission of SCB. This year the Society honored Elsa Cabrera, the founder and CEO of Cenro de Conservacion Cetacea, Chile and Kerry Sink, the Marine Program Manager at the South African National Biodiversity Institute; and the IUCN Red List Committee. The Society also honored 2013 Distinguished Service Award Winner John Woinarski, could not make ICCB 2013 in Baltimore but was on-hand to receive his award in Montpellier.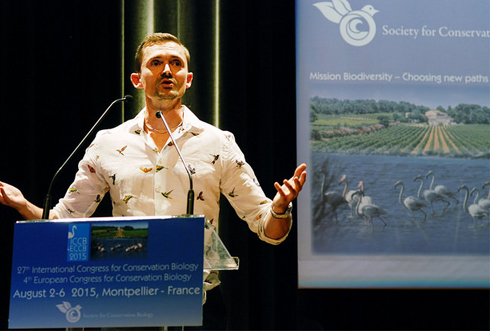 Mike Hoffman, senior scientist with the IUCN Species Survival Commission, accepted a Distinguished Service Award on behalf of the IUCN Red List Committee.
The Africa, Europe and Oceania Sections of SCB presented awards at the SCB members meeting as well. Julie Hanta Razafimanahaka won the Africa Section's Young Woman in Conservation Biology Award. Claire Feniuk won the European Young Nature Conservationist Award and Nikolay Sobolev won the European Nature Conservation Policy Award. The Oceania Section named Jessica Walsh winner of the Oceania Section Best Student Paper Award and Tim Doherty winner of the Best Oceania ICCB Student Presentation Award.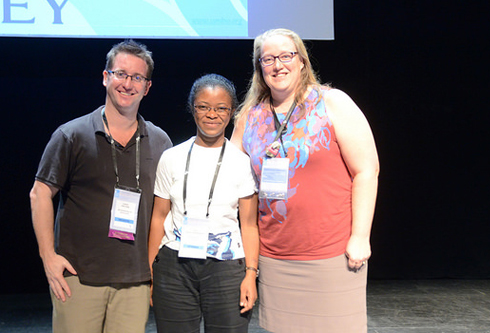 YWCB Award Winner Julie Hanta Razafimanahaka (center) with SCB President James Watson and SCB Awards Committee Chair Carolyn Lundquist
The Society's Freshwater Working Group presented Freshwater Conservation Science Student Awards to Marton Szabolcs and Rafael Leitão.
Finally, Stephanie Januchowski-Hartley won the Swarovski Optik Green Travel Award, which recognizes the ICCB-ECCB traveler with the lowest carbon footprint.
SCB will profile all award winners in upcoming newsletters.
The Society extends a special thank you to SCB Awards Committee Chair Carolyn Lundquist for her work organizing the SCB Service Awards. SCB Service Awards go to outstanding inviduals or groups who advance the science and practice of conserving Earth's biological diversity. Recipients are nominated by members of SCB, selected by the Awards Committee, and approved by the Board of Governors.