NACCB 2018 Update
Call for Proposals DEADLINE EXTENSION: Nov 3RD, 2017, 17:00pm MT
Latecomers rejoice! We have extended our deadline to submit workshop, short course, symposium, or interactive session proposals for NACCB 2018. See the Call for Proposals webpage for submission criteria. The Scientific Program will take place July 23 – 25, 2018. Workshops & Short Courses will take place July 21, 22, and 26, 2018. The Call for Abstracts (Individual talks, posters, speed talks) will open December 8th.
Sponsor, Advertise, Exhibit at NACCB
See our conference prospectus for opportunities! Exhibitor Registration will open in the coming month. Contact us with questions: mail@scbnorthamerica.org
Student Opportunities @NACCB2018
We encourage students to submit extended abstracts (in tandem with the Call for Abstracts) for NACCB's Student Presentation Awards - details to come next month! Student travel awards will be available on a competitive basis, with applications open in Spring 2018. Volunteer opportunities for a reduced registration fee will be available again upon registration. New this year - sign up for NACCB Mentor Match when registration opens in late January! We pair students/early career scientists with mentors according to topics of interest & research. This is a great opportunity to gain invaluable advice and connections with experts in the field! There will be more student opportunities to come!
Plenary Speaker Sneak-Peek
The organizing committee has been hard at work developing a thoughtful and inspiring plenary program for the 2018 congress. Were excited to announce a few of the speakers to be featured in the 2018 plenary sessions:
David Miller served as President and CEO of WWF Canada for the past 4 years, and recently transitioned to a new role as North America regional director and ambassador for inclusive climate action for C40 Cities, the climate leadership group of 90 of the world's greatest cities. David Miller was Mayor of Toronto from 2003 to 2010. Under his leadership, Toronto became widely admired internationally for its environmental leadership, economic strength and social integration. Source: WWF-CA
Valérie Courtois is the Executive Director of the Indigenous Leadership Initiative and a registered professional forester who specializes in Indigenous issues, forest ecology and ecosystem-based management and planning. She is a member of the Innu community of Mashteuiatsh, located on the shore of Peikuakami, or Lac-St-Jean. She has served as a forestry advisor for the Assembly of First Nations of Québec and Labrador, forestry planner for the Innu Nation, and as a consultant in Aboriginal forestry. Valerie has also been involved in the push for a National Indigenous Guardians Network to support Indigenous stewardship of traditional territories. Source: Indigenous Leadership Initiative
Julian Olden is an associate Professor, and leads the Freshwater Ecology and Conservation Lab in the School of Aquatic and Fishery Sciences at the University of Washington. His research explores the ecology and conservation of freshwater ecosystems. Julian is active in science communications, and co-directs the UW Center for Creative Conservation. He is also a Class of 2004 David H. Smith Fellow. Source: Research Gate
Stay tuned as we release more details!
Connect to the Congress: Facebook, Twitter & Instagram: @naccb2018 scbnorthamerica.org/naccb2018
---
News from the NA Education Committee
The Education Committee is transitioning to new administration with the election of Steve Trombulak as Vice-President for Education and Chapters. Steve is returning to his involvement with SCB governance and education, having been the chair of the Education Committee for SCB-Global (1999-2004) as well as being a past-president of the North American section (2004-2006).
During the coming year, the SCBNA Education Committee will focus on the following activities:
Increasing opportunities for educators to participate in NACCB 2018
Increasing educational opportunities for everyone at NACCB
Strengthening the professional "pipeline" for students who want to work as conservation biologists
Facilitating student travel, presentation awards, & other student activities at the congress
Harnessing the combined energies of the North American chapters to work collaboratively on conservation challenges.
Re-examining the published "Principles of Conservation Biology," which has served as a curricular guide for those seeking to develop educational resources in our field
If you are interested in rolling up your sleeves and joining us in the work on any of these topics, please write to Steve Trombulak. New members of the committee are always welcome!
---
SNAP! Policy News
The SCBNA Policy Committee - SNAP for short - worked with the American Society of Mammalogists (ASM) on two sets of comment letters that were submitted to the U.S. Fish and Wildlife Service (USFWS).
The first comment letter focused on the conservation of the Florida Panther, first protected under the U.S. ESA in 1967. Under the Act, USFWS must review the status of each species that it protects every five years. Because of recent controversy over the taxonomic validity of the Florida subspecies, the two societies felt it was important to provide scientific information regarding why the Florida should remain protected as either a subspecies or a distinct population segment of Felis concolor.

The second comment letter focused on the draft recovery plan for the Mexican wolf (Canis lupus bailey). Both SCBNA and ASM have a long history of involvement in the conservation of the Mexican wolf, one of the more contentious species protected by the Endangered Species Act. The latest recovery plan artificially limits the recovery of the Mexican wolf to areas south of Interstate 40 in Arizona and New Mexico, despite clear scientific information showing that there is extensive habitat north of this highway that would provide sufficient room for the population to reach levels that would allow the wolf to recover. A detailed discussion of this controversy was covered in Science magazine recently and can be read here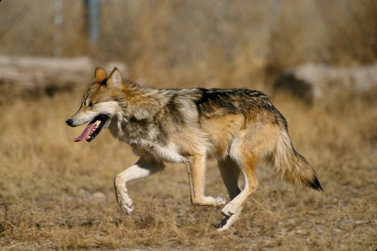 ---
From Membership Survey to Strategic Planning
We asked, you responded, and we are listening. Thank you to North American members that participated in our recent SCBNA Priorities Poll. We have seen significant change throughout 2017 with our first dedicated staff person, several new board members, and the ongoing development of an organizational workplan, centered around strategic priorities for the section. The NA Board will meet for a two-day winter meeting in Fort Collins, CO to discuss our progress, priorities, and where we are headed in the coming years. Your input is critical in guiding us in this exercise, and we appreciate your engagement at our members meeting (ICCB July 2017) and online via the member survey. Please mark your calendars for the next in-person opportunity at our 2018 members meeting on July 24th in Toronto, Ontario, Canada at NACCB. See below for survey results and please contact us with questions, mail@scbnorthamerica.org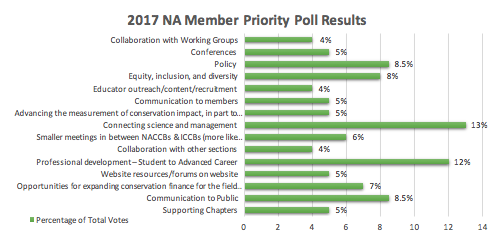 ---
SCBNA appoints interim EID Committee Chair Sergio Avila-Villegas
The NA Section Board welcomes interim committee chair for the recently established Equity, Inclusion, and Diversity Committee, Sergio Avila-Villegas. This committee exists to facilitate and carry out initiatives designed to promote equity, inclusion and diversity within both SCBNA and will in the field of conservation across all levels – including the public, students, professionals, and leaders in the field. The EID Committee Chair serves as an officer and director of the board, and will serve a three-year term. Nominations & elections for this chair position (as well as 2 other at-large board member positions) will take place in the early winter/spring of 2018. Learn more about Sergio's work in our July 2017 newsletter.
---
NA Chapters Corner
SCBNA Director Jamie Hogberg met with CSU, Montana, & Toronto Chapters this fall. Here are some of the highlights:
The Montana Chapter of SCB is hosting its 8th Annual Research Symposium, Conservation Now! Dates: November 6, 2017 (noon) - November 7, 2017 (noon). Register for the symposium.
The Montana Chapter consists of conservation non-profit and agency practitioners, researchers, staff, and students through Missoula, Bozeman, and surrounding areas. Follow them on Facebook.
The Toronto Chapter of SCB is hard at work helping us plan the 4th biannual North American Congress for Conservation Biology. The chapter consists of over 600 members, and leadership includes graduate students from York University, and the University of Toronto. They regularly host a journal club where students and practitioners come together to discuss recent articles in conservation science and practice, and look forward to hosting an event at NACCB 2018. Visit the Toronto Chapter's website in the link above to subscribe to their newsletter, and follow them on social media!
Colorado State University Chapter
The Colorado State University (CSU) Chapter of SCB holds the record for the longest continuously active chapter of SCB. With its home base in Warner College of Natural Resources, the chapter has seen dedicated faculty advising for many years, and has become a strong undergraduate-led organization. The chapter shares biweekly meetings with the local chapter of the Wildlife Society, hosting speakers, panels, and restoration work days at the nearby Robert's Ranch. Stay up to date on CSU chapter news via Facebook in the link above.
---
Member Spotlight – Felipe Torres Vanegas, Toronto Chapter of SCB
Felipe Torres Vanegas is a PhD student in the Department of Ecology and Evolutionary Biology at the University of Toronto. His research is at the intersection between landscape genetics, plant population biology, and conservation biology. Felipe seeks to understand how tropical forest fragmentation affects pollen- and seed-mediated gene flow in the keystone plant species Heliconia tortuosa. Ultimately, one of his main goals is to produce and interpret evidence that can be used to design and implement conservation efforts aimed at maintaining genetic diversity and connectivity in fragmented plant communities; ensuring long-term population viability of both plant populations and their associated pollinators and seed dispersers.
Felipe's PhD project includes an observational study and a manipulative field experiment preformed in the fragmented tropical forest surrounding Las Cruces Biological Field Station in Costa Rica. Felipe's field efforts are combined with molecular protocols and landscape genetic analyses to generate insights on how genetic diversity and connectivity of Heliconia tortuosa populations respond to different intensities of tropical forest fragmentation.
Recently, Felipe presented the first chapter of his dissertation at the International Congress of Conservation Biology (ICCB 2017) held in Cartagena, Colombia, where he was awarded second place for the best five-minute talk. In this opportunity, he presented preliminary evidence signaling that the expected effects of forest fragmentation over genetic diversity are not immediate, but better described by a time-lag period before genetic diversity loss can be evidenced. Felipe serves as a board member of the Toronto Chapter of SCB.
Learn more about Felipe's research: https://felipetorressite.wordpress.com
---
Not an SCBNA member? Become one today!