The SCB Oceania Section has had a busy few months. In June we welcomed two new board members, Dr. Tim Doherty, a terrestrial wildlife ecologist at Deakin University, and Dr. Danielle Shanahan, a postdoctoral research fellow at the University of Queensland.
In July we held our 4th Oceania Section Conference in Brisbane, Australia. The week was a fantastic success, attended by c. 500 conservation scientists, students, and practitioners from our region. The theme of the conference was "Bridging Divides: Science Meets Action, Water Meets Land". The week featured short courses, workshops, and symposia, one of which highlighted our Special Issue out now in Pacific Conservation Biology: "Conservation Oceania Style: Highlighting Oceania's Unique Approaches to Conservation".
We awarded a total of AUD $70,000 (USD $53,340) in travel scholarships to help members - especially those from the Pacific Islands - attend the conference. Whilst the number of travel grant applicants exceeded our ability to fund everyone who requested support, we were thrilled to be able to provide 27 full scholarships (flights, accommodation, and registration fees) and 63 partial scholarships to recipients from 19 different countries. We are grateful to the Thomas Foundation, Queensland University of Technology, and Tourism and Events Queensland for their funding support.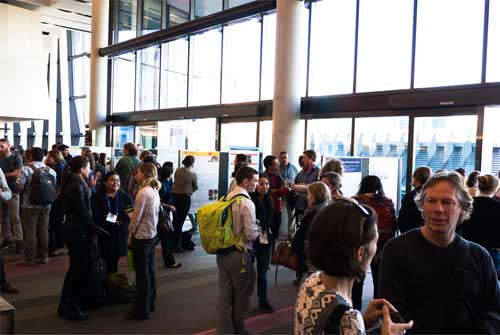 Fantastic plenaries delivered by Dr. Stacy Jupiter (Culture, kastom and conservation in Melanesia: what happens when worldviews collide?), Professor Mark Burgman (Conservation science: the state of play), and Associate Professor Kerrie Wilson (Righting the wrongs of trickle-down interdisciplinarity) were a definite highlight for many attendees. For the board, the highlight of our week was the chance to meet our members face-to-face, and hearing all about the wonderful research and conservation being undertaken in Oceania! You can see some photographic highlights from the conference here.
"I registered for the conference as a non-member; then got so fired up and loved the spirit that I became a member during the conference...... Thanks for this great experience!" – SCBO 2016 attendee
At the conference close, attendees supported a Scientists' Declaration on Accelerating Forest, Woodland and Grassland Destruction in Australia, an important and current policy issue in Australia. SCB Oceania President Richard Kingsford also presented our 2016 Distinguished Service Award to the Locally Managed Marine Areas Network, for its extraordinary achievements in advancing and scaling up the practice of community-based marine resource management and conservation in Oceania. The award was accepted by Alifereti Tawake, co-founder of the LMMA Network, and Roko Josefa Cinavilakeba, traditional leader and paramount chief of Totoya, Fiji. We are now looking ahead to our next Oceania Section congress, which will be in Wellington, New Zealand, in 2018!
Learn more about the Oceania Section at their website, and be sure to follow the Section on Twitter and Facebook.
---