Scientists at ICCB-ECCB used social media to deliver conservation messages to an audience that extended well beyond Le Corum, the conference hall in Montpellier that hosted ICCB-ECCB from 2-6 August 2015.
#ICCB2015, the official congress hasthag, appeared in 20,119 tweets. Conservation, conservation marketing, Cecil the Lion, and citizen science were among the most popular topics on twitter at the meeting. Other topics scientists debated and shared with a worldwide audience included road ecology, biodiversity and the role of IPBES, the newly established Intergovernmental Platform on Biodiversity and Ecosystem Services.
Excluding the @ICCB-ECCB twitter account, the most active Twitter users were @IbuAnggrek and @Cracken_MacCraic.
#ICCB2015 generated nearly 20,100 tweets and posts to the conference Facebook page reached close to 10,000 views over four days.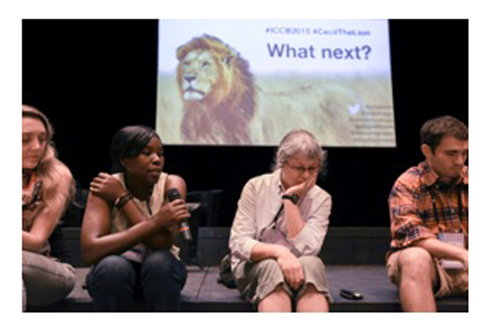 An impromptu session on the killing of Cecil the Lion sparked conversation on social media. Clare Fieseler covered the session in this post on the National Geographic Voices blog.
The influence of twitter at SCB meetings has grown every year since 2011, and was the topic of an editorial in Conservation Biology in 2013 (How Twitter Literacy Can Benefit Conservation Scientists.) View this storify for a (random) selection of #ICCB2015 tweets.
More ICCB-ECCB Stats
Women made up 52 percent of the 1,167 followers of @ICCB_ECCB and 59 percent of the congress' Facebook fans. The top five "fan" countries were the United States, the United Kingdom, Australia, France and Mexico. ICCB-ECCB was the largest congress in SCB history, it also marked the first time that ICCB used a conferenc app. More than 1,300 attendees downloaded the ICCB-ECCB app, which allowed attendees to search for and schedule sessions, connect with other attendees, post to social media, find exhibitors, and more.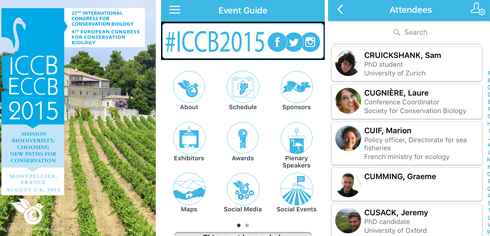 SCB produced a dedicated app for ICCB-ECCB.
Twitter was the most popular social media platform to share research and conservation messages, but attendees also used the ICCB-ECCB Facebook and Instagram to catalogue their experiences at ICCB-ECCB and their time in Montpellier. Here is a selection of posts to Instagram from ICCB-ECCB attendees. Visit the ICCB-ECCB flickr album for hundreds of photos from the conference.
Finally, here is a selection of tweets from ICCB-ECCB. Search the hashtag #ICCB2015 for more twitter coverage from the meeting.