Thanks to a generous grant from the Germeshausen Foundation, SCB sent 18 students from developing nations to the Section congresses in July and August. The 2014 SCB Training Scholarships provided up to $2,000 to qualified students to attended pre-congress workshops and short courses as well as the associated congresses. The scholarships helped seven students to the Asia congress, six to the Marine congress, and two each to the Oceania and North America congresses.
A grant from the Germeshausen Foundation allowed SCB to provide training scholarships to help students from developing countries attend SCB congresses in July and August 2014. Fola Babalola, second from left, and Fatsuma Olaleru, far right, received training at SCB's North America Congress in Missoula, Montana.
"The SCB Training Scholarship made it possible for me to participate in the two-day short course 'Introduction to Species Distribution Modeling in the Marine Environment'" said Aristide Kamla who attended IMCC3. Kamla plans to apply what he learned at the short course and IMCC3 to his work in Cameroon where he hopes to make the first distribution modeling map of manatees and dolphins along Cameroon's coast. "I am also looking forward to transferring this knowledge to my peers in Cameroon," he said.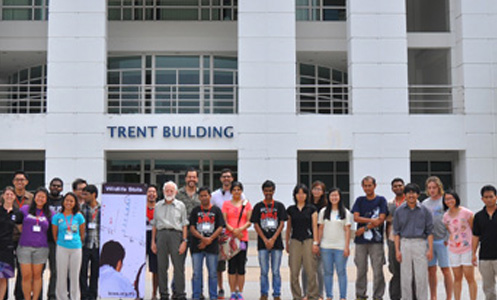 Training scholarship awardee Abdul Aziz sent this photo of attendees at the wildlife study design and data analysis workshop that he attended using his scholarship award money at the SCB Asia Section Congress in Melaka, Malaysia in August.
The 2014 SCB Training Scholarship Review Committee was chaired by SCB Board Member Kate Christen. Several members from the Education Committee, including SCB Board Member and Education Committee Chair Sadie Ryan, served as reviewers. We are hopeful that foundation funds can be similarly dedicated to such activities at future congresses.