The Freshwater Working Group (FWWG) has been focused on creating opportunities for students and early career researchers who are attending the International Congress for Conservation Biology (ICCB) in Cartagena, Colombia. The FWWG would like to draw student and early career researchers' attention to two opportunities that are currently open and accepting applications.
First, the FWWG is offering assistance to five students (of any education level) to attend a one-day or half-day pre-congress workshop at the International Congress for Conservation Biology (ICCB) in Cartagena, Colombia that will enhance their research skills or career opportunities. DEADLINE for email submissions is: 25 April 2017. Award decisions will be made and approved by the FWWG Board in April, and awardees will be notified by 10 May 2017. Winning applicants will be reimbursed the cost of their pre-congress short course/workshop after the Congress and upon submission of a final report on their experience. Applicants will be reimbursed for one course only. You can find more details on the ICCB webpage.

Second, the FWWG is hosting a Curriculum Vitae (CV) Clinic for Students and Early Career Researchers attending ICCB. Helen Barber-James and Sukhmani Mantel of the FWWG will offer a free CV Clinic to help students and earlier career researchers in the development of their careers. Guidelines and a template are available on the FWWG Website, and can be modified to fit your needs. The CV Clinic is open to all young researchers and students, as part of the ICCB Career Fair. To receive explicit advice, please email your CV to both Helen and Sukh by 23 June 2017. Your CV must be presented in English and labelled with your surname as part of the filename that you send. Only the first 50 CVs will be accepted; so get yours in early! Feedback will be provided at the CV Clinic table at the Career Fair at ICCB in Cartagena.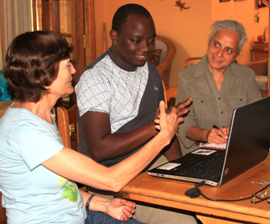 The FWWG is excited to see you all in Cartagena! The working group will also be hosting a workshop at the conference and will be selling freshwater and fish-related SWAG at the SCB Booth during the conference. Look for the fish and you will find us!
---