Member Spotlight: Brett Dickson, Ph.D
How the global manufacturing network inspired a conservation biologist to adopt a new paradigm for advancing conservation solutions
From SCB
| Posted February 2013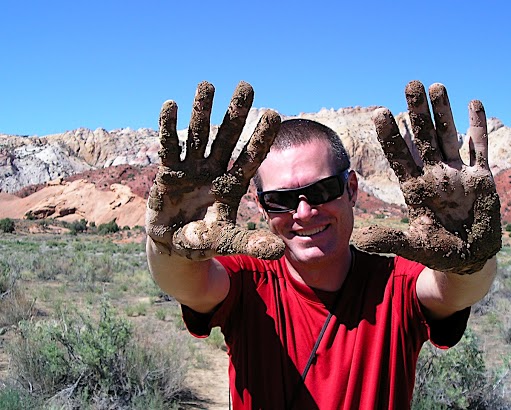 Class of 2008 Smith Fellow Brett Dickson gets his hands dirty in Capitol Reef National Park in south-central Utah, USA. Brett founded Conservation Science Partners in 2012.
-----------------------------------------------------------------------------------------------------------------------------------------------------
------------------------------------
----------------------------

"I think today's conservation biologist needs to be more comfortable with and better educated in quantitative methods...Skills in leadership, interdisciplinary collaboration, and outreach are also hugely important..."

Brett Dickson

----------------------------
A conservation biologist, landscape and wildlife ecologist, and ecological modeler, Brett Dickson is the founder, president and chief scientist of Conservation Science Partners, Inc. (CSP).
Prior to founding CSP, Brett worked on the Kaibab Plateau in Arizona as a David H. Smith Conservation Research Fellow where he focused on developing new data and approaches for restoring native ecosystems. The two-year post-doctoral fellowship is administered by SCB and supports early-career scientists who will shape the field of applied conservation biology.
Brett worked in industrial design and product development prior to graduate school where he learned firsthand how the worldwide manufacturing network efficiently services diverse consumer needs. This experience, along with the Smith Fellowship, helped Brett develop the idea of a network-based and conservation-oriented business model that led him to found CSP.
In addition to serving as president and chief scientist at CSP, Brett is a research faculty member in the School of Earth Sciences and Environmental Sustainability and co-director of the Lab of Landscape Ecology and Conservation Biology at Northern Arizona University.
In the following Q&A, Brett talks about what led him to a career as a conservation biologist, why he founded CSP, the application of new technologies to address conservation challenges, skills successful conservation biologists need today that were less relevant 20-years ago, and career options for young conservation professionals that lie outside the realm of academia and government.
---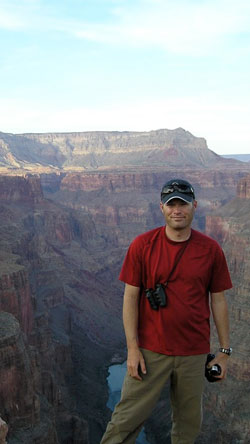 Brett at Grand Canyon-Parashant National Monument


--------------------------------------------------
Why did you decide to pursue a career as a conservation biologist?
As a teenager, I was inspired by wild places around the American West, including Glacier National Park, Death Valley National Park, and Henry Coe State Park in northern California, which was my backyard growing up. I was hooked early on by the idea of conserving the species and habitats of these landscapes while learning and sharing as much as I could about them. I also recognized the challenges faced by conservation biologists (e.g., habitat loss and fragmentation, persecution of large carnivores) and wanted to be a part of tackling them head on.

Your Smith Fellowship focused on land resource and fire management and the restoration of native ecosystems on the Kaibab Plateau in northern Arizona. How has your research informed restoration and conservation planning in the region?
My work as a Smith Fellow was built on partnerships. I teamed up with staff from the Grand Canyon Trust, Grand Canyon National Park, and the Kaibab National Forest to develop landscape-scale spatial data sets describing key ecological conditions and processes, such as vegetation composition and structure, large fire risk, and habitat connectivity for wide-ranging species. We worked together to incorporate these data into stakeholder-based efforts to conserve and manage resources in the region and across jurisdictions. The recent Kaibab Forest Health Focus was one of those efforts. My work served this process by informing an analysis of the cumulative effects of different forest restoration scenarios. I continue to work closely with the Grand Canyon Trust and Kaibab staff to keep these data current and to incorporate them into their ongoing planning efforts.
Where did the idea of Conservation Science Partners originate and what convinced you that it would succeed in practice?
The idea for a conservation-oriented business model first emerged from my experiences working as a product designer and developer prior to graduate school. I had the opportunity to travel around the world and explore how diverse consumer needs could be met by a global manufacturing network that was linked to a small but efficient cast of entrepreneurs and designers in California. The 'problems' were different (and smaller), but the challenges were still there, and I saw the power in leveraging contractors from multiple disciplines to develop creative solutions. I always imagined bringing these experiences in business 'full circle' with my training as a conservation biologist.
After a few years of working in the traditional research venues of universities and government, colleagues and I were convinced that a new, network-based business model was required to more flexibly address the growing scientific and analytical needs of conservation stakeholders. As a non-profit, CSP seeks to expand the responsiveness, reach, and application of science by building capacities outside of the 'conventional' models, and creating a conduit for enlisting the best minds in innovative conservation solutions.