Member Spotlight
A scientist learns that conservation and communication go hand-in-hand
From SCB
| Posted October 2012
Steven Price leads a tour of an FSC-certified, mixed deciduous-coniferous forest in Ontario, Canada.
-----------------------------------------------------------------------------------------------------------------------------------------------------
--------------------------------------------------
Steven Price is World Wildlife Fund-Canada's Senior Director of Conservation Science and Practice. In 2005, he established the Conservation Science and Practice team at WWF-Canada, whose current priorities are adaptation and resilience-building in the face of climate change, ecosystem services valuation, and cumulative impacts.
----------------------------

"I've learned to always be ready for out-of-the-blue opportunities, and to evaluate them, knowing some risk can bring great reward, adventure and learning opportunities."

Steven Price

----------------------------
In 31 years with WWF, Steven has led formation of sustainablility partnerships with industry. He helped establish the Forest Stewardship Council, whose FSC label now appears on wood and paper products sourced from well-managed forests. He is a regular contributor to WWF-Canada's blog (read his posts).
Previously with WWF, Steven worked in Latin America and prior to that on endangered species and threatened habitats in Canada.
Steven lives in Toronto, Canada. In 2011, he completed a 42-day, 1500-km canoe trip through boreal and Arctic wilderness from Great Slave Lake in the Northwest Territories to the mouth of the Thelon River on Hudson Bay.
In the following Q&A, Steven addresses a number of topics, including careers in conservation, conservation challenges, and the critical role that communication plays in advancing science.
---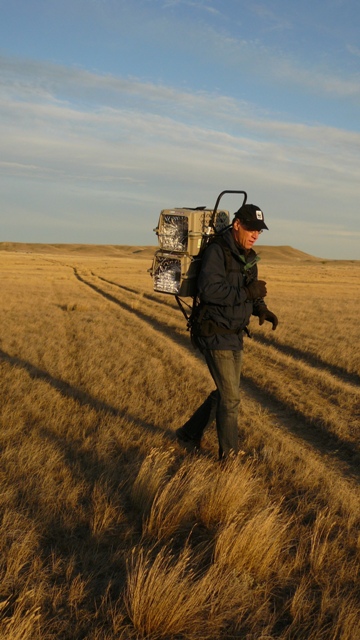 Steven in 2009 reintroducing captive-bred black-footed ferrets to Canada's Grasslands National Park in Saskatchewan. For more photos and to read about the project, click here. Photo by Mara Johnson, WWF-US.
--------------------------------------------------
SCB Q&A with Steven Price
When did you know that you wanted to work in conservation and what fuels your passion for the field?
Steven: My interest in natural history grew during summer cottage visits in central Ontario, deepening in my undergraduate years, while working summer jobs on bird surveys and attending field courses. During graduate school, I saw species and habitats at risk from Ontario to Florida. It was 1978, when the term 'conservation biology' was just coined, and many of us could clearly see the need for scientists to identify those species and habitats at risk, including recovery goals and programs.
You've spent a lot of time working on endangered species and threatened habitats. When someone asks why we should care about the survival of a single species, what do you say?
Every species is important and we have no right to knowingly extinguish it. That's the heart of it for me, but I always add the economic, social and ecosystem service value arguments to help people realize that the support system for all life, including humans, is at stake.
How did you end up where you are now? Was your career path clear, or did unforseen opportunities come about at the right times?
My career path was not clear, in that after graduate school I thought I would become an academic biologist. But an urge to support conservation led me to volunteer at WWF, while I was writing up my thesis. After a few months, I was offered my first job, and though my work has changed every 3-5 years, I've been employed only by WWF for over 30 years. I've learned to always be ready for out-of-the-blue opportunities, and to evaluate them, knowing some risk can bring great reward, adventure and learning opportunities.
You have a lot of experience and success in establishing sustainability partnerships with industry. Why are these partnerships important?
Some prefer to take an ideological approach, attacking big business or capitalism as the problem per se. For my money, we have a much better chance of drastically reforming energy and material consumption, by having access to corporate supply-chain footprint today and helping dial that down dramatically tomorrow. As consumers of food, fuel, clothing and shelter, many of us want greener choices, and the power of our spending can dramatically and rapidly shift corporate culture to lower environmental footprint. With the deadlines conservation biology alerts us to for so many species and habitats, we need such corporate reform, along with strong regulation, enforcement and recovery programs.