Past SCB Award Recipients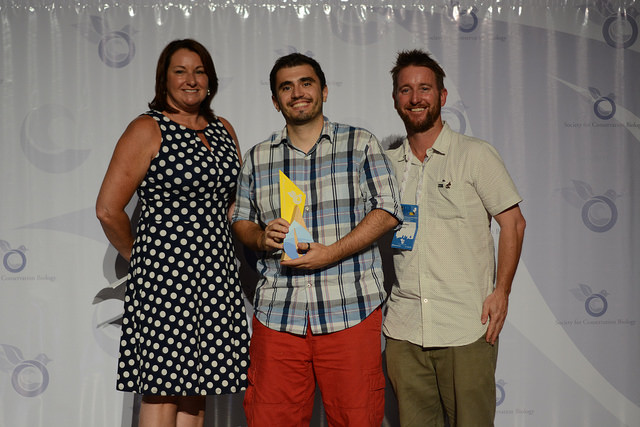 In 1987, shortly after its founding, the Society for Conservation Biology started an awards tradition to recognize scientists and institutions from around the world for extraordinatory contributions to conservation biology and the preservation of Earth's biodiversity. Past winners include Albert Gore, Eleanor Sterling, Michael Soulé, Georgina Mace, E.O. Wilson, David Attenborough, Phoebe Barnard, Bat Conservation International, and the Marine Mammal Commission.
Until 2011, SCB Service Awards were presented annually at the International Congress for Conservation Biology. Following SCB's 25th ICCB in Auckland, New Zealand in 2011, ICCB moved to a biennial schedule. Today, SCB Global Service Awards are presented every other year at ICCB. The Society presents one Edward T. LaRoe III Memorial Award and up to five Distinguished Service and Early Career Conservationist Awards.
Following is a list of past winners of SCB Service Awards.
2017 (Global)
Father Hermann Borg
Angelo O'Connor Villagomez
Mimi Lam
Patricia Heglund
Diogo Verissimo
Holy Wisdom Monastery of Middleton

---

2016 (Regional)
Sophia Jingo, Uganda
Africa Section - YWCB

Ashoka Trust for Research in Ecology and the Environment (ATREE), India
Asia Section - DSA

Attila Nemeth (Hungary)
Europe Section - Early Career

Barbara Taylor, USA
North America Section - LaRoe

Locally Managed Marine Areas Network (LMMA), Fiji
Oceania Section - DSA

Angelique Hjarding on behalf of the North Carolina Wildlife Federation
Conservation Marketing Working Group - Brandy Award

Asociación Jairo Mora Sandoval
Marine Section - Jairo Mora Sandoval Award

---

2015
Elsa Cabrera
Kerry Sink
IUCN Red List Committee
Early Career: Stacy Jupiter
LaRoe: Sue Miller-Taei

---

2013
Eleanor Sterling
Bill Sutherland
John Woinarski
The Center for the Study and Conservation of Raptors in Argentina (CECARA)
Early Career: James Watson and Lucas Joppa
LaRoe: Robin Waples

---

2011
William Laurance
Patricia Majluf
Richard Primack
Early Career: Michael Mascia
LaRoe: Brian John Huntley

---

2010
Idelisa Bonnelly de Calventi
Muhammad Mumtaz Malik
Jon Paul Rodríguez
Marine Mammal Commission
Julian Olden
LaRoe: David Schindler

---

2009
Kamal Bawa
Shivani Bhalla
Ernesto Enkerlin
Dr Aili Kang
George Schaller
Marika Tuiwawa
LaRoe: Joel Berger

---

2008
Mario Baudoin
Anne Kapuscinski
David Lindenmayer
Helene Marsh
Jorge Soberon
LaRoe: Gonzalo Halffter

---

2007
JC Daniel
Rodolfo Dirzo
Malcolm Hunter
Kathryn MacKinnon
Nature Kenya
LaRoe: Jeremy Jackson

---

2006
Javier Simonetti
Dee Boersma
Yolanda Kakabadse Navarro
Mark Burgman
Nature Conservation Foundation
LaRoe: Stuart Pimm



2005
Binod Chandra Choudhury
Maria Elena Ibarra
Richard Cowling
David Ferguson
Tropical Biology Association
LaRoe: Daniel Pauly

---

2004
Gerardo Ceballos Gonzalez
Bittu Sahgal
A.J.T. Johnsingh
International Crane Foundation
LaRoe: Jerry Franklin

---

2003
Jane Lubchenco
The Aldo Leopold Foundation
Martha Isabel Ruiz Corzo
Sarath Kotagama
Michael Dombeck
LaRoe: Stephen Schneider

---

2002
Georgina M. Mace
The Charles Darwin Foundation for the
Galapagos Islands
Márcio Ayres
David Attenborough
Phoebe Barnard
Anil Agarwal
LaRoe: John Lawton

---

2001
The Patrol Guards of the Institut Congolais pour la
Conservation de la Nature
Eugene P. Odum
José Sarukhán Kermez
David S. Wilcove
Biodiversity Legal Foundation
Gary Larson
LaRoe: Robert Pressey

---

2000
The 5200 Contributors to the Loomis Forest
John J. Craighead
Tan Sri Datuk Amar Haji Hamid Bugo
Peter H. Raven
Robert Goodland
Gary Paul Nabhan
LaRoe: Edwin Philip Pister

---

1999
Instituto de Pesquisas Ecologicas (IPE), Brazil
John L. Craig
N. Thompson Hobbs
Lorena Calvo M.
Administrative Management and Design (ADMADE)
Program, Zambia
Peter Matthiessen
LaRoe: Chandler Robbins

---

1998
Palau Conservation Society
Sir Otto Frankel
Denis Saunders
George Rabb
Andy Robinson
Kathleen Blanchard/Quebec-Labrador Foundation
Graeme Caughley (Special award - posthumous)
LaRoe: J. Michael Scott

---

1997
Amur River Project
Donald Worster
Jack Williams
Robert Michael Pyle
Daniel Kemmis
Wild Earth
LaRoe: Barry Noon

---

1996
Malpai Borderlands Group
Gordon Orians
James Williams
William Conway
Ken Saro-wiwa (posthumous)
Elizabeth Donnelly/Journey North Project
LaRoe: Katherine Ralls

1995
Herman Daly
Larry Harris
Daniel Janzen
Mardy Murie
High Country News
Jim Nelson
Wildlife Conservation Society
LaRoe: Reed Noss

---

1994
Exequiel Ezcurra
Hugh Iltis
Toshio Kasuya
Robert Repetto
José Sarhukan
Instituto Nacional de Biodiversidad
Albert Gore

---

1993
The Nature Conservancy
David Ehrenfeld
Michael Soule
Robert E. Jenkins
Jeff DeBonis
J. Michael Scott

---

1992
The Wildlife Society
Stephen H. Hubbell
Henry F. Howe
Lorraine Mintzmyer
Robert Costanza
Island Press

---

1991
Bat Conservation International
Jack Ward Thomas
Sara Vickerman
Roger Lewin
Theodore Panayatou
Victor Sheffer
E.O. Wilson
Joe Hickey (special award)

---

1990
Alwyn Gentry
Phil Pister
Steve Kellert
Paulo Nogueira Neto

---

1989
David Western
John Terborgh
Stan Temple
Noel Snyder
John Krutilla

---

1988
Ray Dasmann
Michael Bean
Devra Kleiman
Jersey Wildlife Preservation Trust
Inter-Agency Grizzly Bear Team

---

1987 (first year)
Norman Myers
Paul Ehrlich
Michael Lannarty
New York Zoological Society