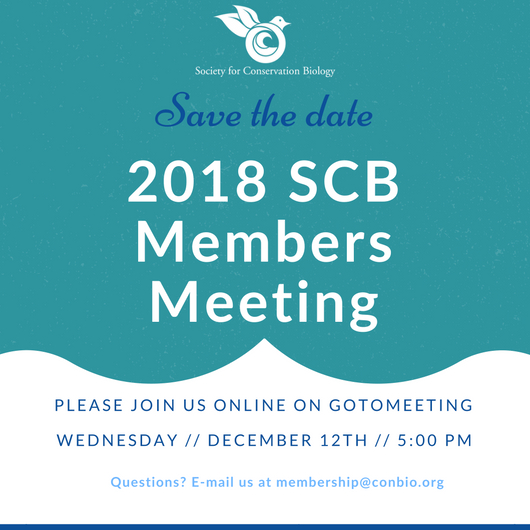 The Society for Conservation Biology will host the 2018 Members Meeting on December 12, at 5:00 p.m. ET via GoToMeeting.
The Members Meeting will allow SCB members an opportunity to learn about the work of the Society and its groups, engage with board members and staff, ask questions and make your voice heard as a member.
Please mark your calendars and share the event with other SCB members. A recording of the meeting will be posted on the SCB Vimeo page for members who cannot attend.
What: SCB Members Meeting
Who: SCB members, leaders and staff
When: December 12, at 5:00 pm ET
Where: GoToMeeting and the Society for Conservation Biology Executive Office in Washington DC
Please click here to access the GoToMeeting on your computer, tablet or smartphone. You can dial in using your phone +1 (224) 501-3412 with the access code: 480-763-301.
If you have questions, please don't hesitate to email us.