To change the amount of emails you get from Conservation Connection, log in to the platform and click on your profile, found at the top right of the Conservation Connection home screen.

From here, click on the My Account tab and scroll to Community Notifications.

On this page, you can see the communities you are in, and the emails you're subscribed to receive. To change the amount of emails you get from a specific community, click on the corresponding community's drop-down arrow and click the type of email you would prefer to receive.
Real Time emails you automatically after every response in that community. Daily Digest gives you an email at the end of every day. No Email omits the email rundown of the community.
If you would like to receive weekly emails, check the boxes on the right-hand side of the Community Notifications page. A singular email will be sent once a week with a summary of the activity of all the communities you selected for the weekly digest. To choose which day you get the weekly rundown, stay on the Community Notification page, and click on the drop-down arrow under "Weekly Consolidated Community Digest" (highlighted below).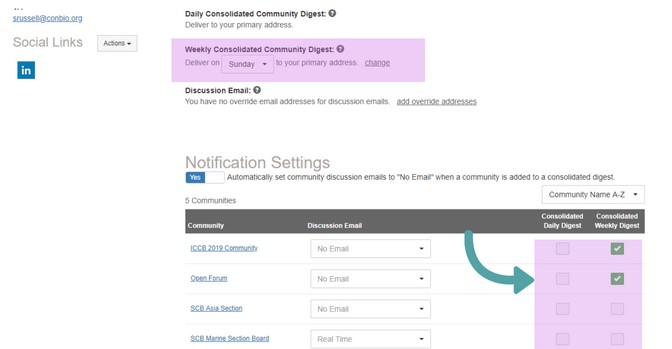 To turn off all emails from Conservation Connection, go back to your profile page, click on My Accounts, and go to the Email Preferences page.

From here you can turn off email notifications from Conservation Connection (left) OR change the email community notifications go to (right).
---