The retreat joined Smith Fellows from the classes of
2020
and
2021
whose previous professional development gatherings were held virtually and served as an orientation event for the
recently announced Class of 2022
.
Over five days, the postdocs worked on group projects, learned about natural history and conservation in California, presented on their research projects, participated in guided field trips, and explored the Point Reyes National Seashore. The retreat included virtual engagement for Fellows who could not attend in-person so that they could participate in group projects and present their research.
After two-years of virtual meetings, the opportunity to connect and collaborate in-person was instrumental in helping the Fellows form relationships, advance group projects, and develop a sense of shared experience and bonding that cannot be replicated by video.
"One of the most valuable aspects of the Smith Fellowship is the relationships we build with our cohort, and no amount of zoom time can replace in person connection," Class of 2021 Fellow Shayle Matsuda, Ph.D., said. "The experiences I enjoyed the most in that regard were the off the cuff moments - walking to the conference room, sharing dinner outside on the patio, walking the trails at Point Reyes - where we really got to know one another and bond."
A coral biologist whose Smith Fellowship focuses on the microbial consequences of translocation for coral reef conservation, Matsuda organized the San Francisco-based activities for the retreat, including a behind-the-scenes tour of the California Academy of Sciences.
"I was so grateful for the opportunity to bring together folks from two communities that mean a lot to me," he said. "I did my masters at the California Academy of Sciences, and it is a very special place to me. I believe that natural history collections are so important to conservation research - looking to the past can inform so much about how we understand conservation challenges of today. It was great to have the opportunity to share that with the fellows, as well as to explore the natural beauty of Pillar Point, another place dear to me."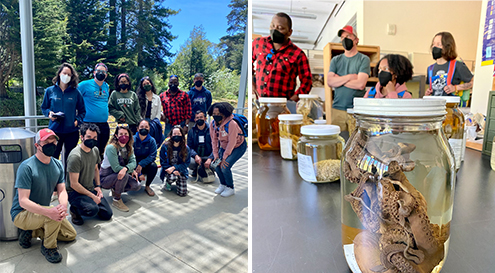 Smith Fellows at the California Academy of Sciences where they received a behind the scenes tour of collections at the Academy and explored the museum.

The Fellows also learned about sustainable oyster farming and the unique marine environment and intertidal lands of Tomales Bay where scientists and Hog Island Oyster, Co. collaborate to promote healthy ecosystems and sustainable seafood supply. Gary Fleener, Ph.D., led the fellows on a tour of the oyster farming operations at Hog Island Oyster Co. in Marshall, CA where he works as science, sustainability and education specialist.
The Smith Fellows will meet again later this year in Washington, DC on a policy-centered retreat. And while Covid-19 remains a challenge to designing and organizing in-person events, Smith Fellows Program Director Shonda Gilliland is glad to bring the fellows together with minimal external distractions and uninterrupted time to work on group projects, solve problems and bond through shared experiences.
"Our simple goal for this retreat was to spend as much time together and outdoors as possible," said Smith Fellows Program Director Shonda Gilliland. "The community the Smith Fellowship supports is one of its greatest strengths and retreats are a critical way fellows connect as both scientists and humans, current cohorts can establish relationships with Smith alums, and we all learn about local conservation issues, often reminding us why we were drawn to this field and this work - in-person retreats are absolutely reinvigorating!"

About the David H. Smith Conservation Research Program
The
Smith Fellows Program
is a two-year postdoctoral fellowship that identifies and supports early-career scientists who will shape the field of applied conservation science. David H. Smith Conservation Research Fellowships are available to post-doctoral researchers (of any nationality) affiliated with a United States institution, proposing research that addresses pressing conservation issues for the United States.
The Smith Fellows Program is accepting proposals for the Class of 2023 cohort. Learn more and
submit a proposal
to be a Smith Fellow.