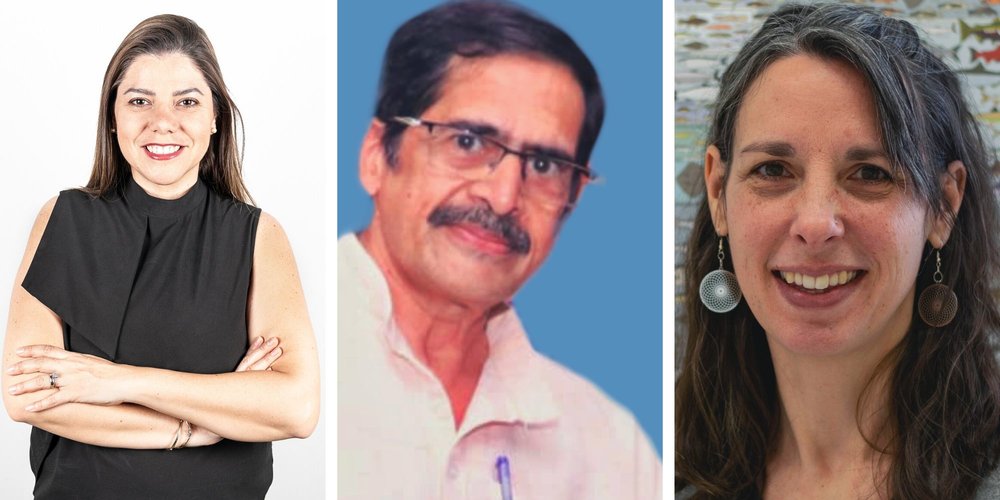 The Society for Conservation Biology (SCB) is excited to announce the winners of its 2020 regional service awards for outstanding contributions to biodiversity protection.
Whether working to revitalize island reef systems or using genomic data to conserve marine and freshwater ecosystems, SCB award winners work to bridge the gap between the science and practice of conserving Earth's biodiversity.
Winners are nominated by SCB Groups that work regionally or topically to implement the Society's mission.
"I am privileged to have three greatest rewards in life - nature, science and people!" said Dr. Milind Watve, winner of a Distinguished Service Award.
Distinguished Service Awards recognize individuals or groups whose work advances the science and practice of conserving biodiversity. 2020 SCB Group DSA winners include:
Dr. Milind Watve is recognized by the Asia Section for his innovative application of behavioral economics to promote a government supported, community operated program for agricultural sustainability in areas prone to heavy crop damage by wild animals, and for demonstrating its success on a pilot scale.
Dulce Espelosin is recognized by the LACA Section for her remarkable contributions to the application of training for behavioral science and design thinking for species and ecosystems conservation in Latin America.
One People, One Reef is recognized by the Oceania Section for its work to develop youth leadership and local stewardship capacity, resulting in the revitalization and enhanced protection of Micronesian outer island reef systems.
Graduating with a science degree in communications and media from Tecnológico de Monterrey in 2001, LACA Section DSA winner Dulce Espelosin develop a passion for conservation with communities in her native México and rural communities globally. She has worked in more than 50 rural communities around the world supporting different organizations to build strong behavior change strategies to promote the preservation of biodiversity and nature. Dulce is a design thinker for the behavior strategist and a social marketing expert who loves working with and for people. She is the Latinamerica lead of the Center for Behavior & the Environment of Rare and the México Director of The Social Marketing Association of North America (SMANA) Board of Directors.
SCB also recognizes early career professionals who make outstanding contributions to conservation.
"I'm very honored to receive an Early Career Conservationist award from SCB," said Mariah Meek, Ph.D. "The work SCB does to promote the use of science in solving conservation problems is so vital. I feel lucky every day to be a part of that process. It is an honor to be recognized for my work advancing our ability to use genetics to improve conservation and management."
2020 Early Career Conservationist Award winners include:
Dr. Mariah Meek is recognized by the Conservation Genetics Working Group for her outstanding contributions to the conservation of marine and freshwater ecosystems using genomic data. Dr. Meek has demonstrated the ability to conduct cutting-edge conservation genomics research, while also showing dedication to the application of such research in conservation. The award panel was impressed by Dr. Meek's many scientific contributions, as well as her demonstrated commitment to collaboration and communication with stakeholders, such as the U.S. Geological Survey, U.S. Fish and Wildlife, and the IUCN.
Kathayoon Khalil is recognized by the Social Science Working Group for contributions reflecting the principles of the Social Science Working Group.
Dr. Diva Amon is recognized by the Marine Section for its Early Career Conservationist award named after marine conservationist, Dr. Elliott Norse. Diva was nominated for excellence and achievements in the conservation of the deep sea and global outreach as an early career researcher.
The Marine Section also highlights (honorably mention) Rachel Kelly for excellence and achievements in the conservation of marine socioecological systems, including human dimensions of the ocean.
Edward T. LaRoe III Memorial Award
The SCB North America Section selected Dr. Maile Neel for The Edward T. LaRoe III Memorial Award for her leadership in the research fields of species recovery and genetic diversity and her dedicated translation and application of that research to inform practical decisions and actions for restoration and management across multiple agencies. The award targets individuals who show leadership in government service and translate the principles of conservation biology into real-world conservation.
Building Nature's Brand Award
The Society's Conservation Marketing & Engagement Working Group will announce the winner of its Brandy Award later this year. The Brandy Award recognizes individuals for bringing marketing strategies to the field of biodiversity conservation and applying them on the ground to produce change in human behavior.
Thank you to our Sponsor
The Society for Conservation Biology is grateful to Wiley for supporting SCB Awards!