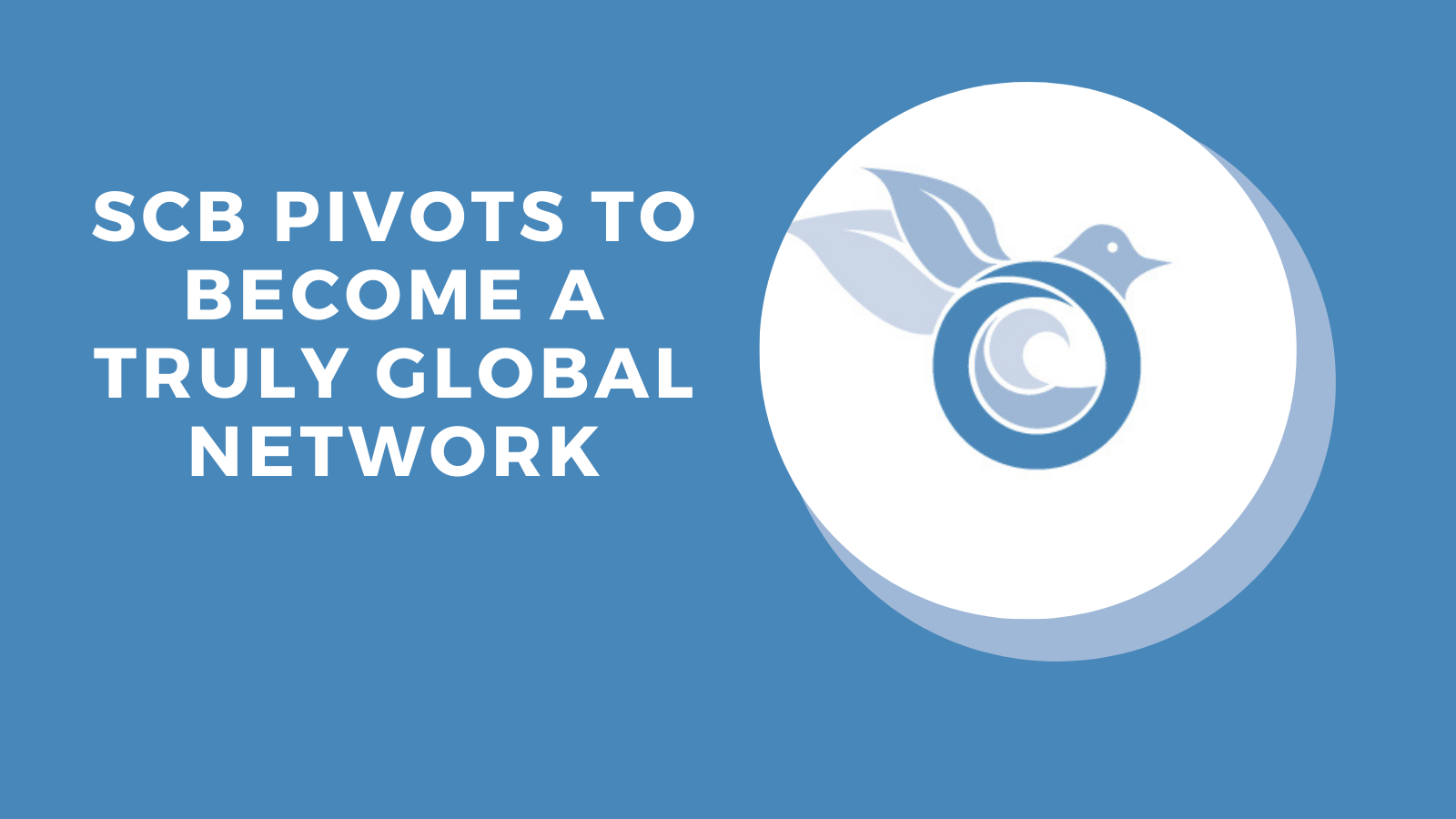 SCB is in the process of reimagining our organizational governance, operations and structures to best serve the global membership and mission. The Transition Implementation Group (TIG) has been hard at work all year and we are thrilled to announce that in July the SCB Board of Governors (BoG) approved a set of draft recommendations for the business model and governance structure. This brings us to a new and exciting phase of the transition where we are seeking the viewpoints and opinions on the elements of the transition with SCB groups (updates below).
We are encouraged with the progress being made towards the transition of our Society into an equitable, decentralized global network that is inclusive of all groups and truly serves the diverse global membership. We extend our gratitude to you and every single voice who has inspired the co-creation of this evolved structure, including members, leaders from SCB Chapters, Sections, and Working Groups, and the SCB global staff, BoG and TIG.
Here we'd like to provide updates on the transition to the global network and share what we heard from SCB members on the key goals and structural recommendations of the transition.
What We Heard from SCB Members
We want to thank SCB members who asked questions and shared their concerns and aspirations about the transition through an online survey we administered in May. We published members' questions in the June Newsletter. In aggregate, questions centered on member participation in SCB, staff structure in the network, equitable and contextualized support for groups, human capacity for conservation in underrepresented regions, and how the business model will support the network and service SCB groups. Participants' concerns centered on:
The role of Chapters in the global network, including collaboration and communication between Chapters, Sections and Working Groups and between SCB and Chapters; the creation and support of Chapters in tropical regions with high biodiversity or regions with distinct cultures, climate, economies and biodiversity; and greater access for Chapters to funding and fundraising capabilities.
Maintaining and building professional staff capacity to service the global network in the new model and providing excellent conferences and support for SCB groups.
SCB's commitment to actively address historic power inequities in conservation and initiatives that harm communities of color while implementing structures that celebrate diversity and support LGBTG, BIPOC and other marginalized groups.
Language barriers that can limit participation in SCB for those who do not speak English as a first language and limit their contributions to the restructuring process.
We're grateful to all members who have shared feedback and asked questions. Your voice drives outcomes that result in a transition process and a global network model that is resilient and responsive to members' needs.
We are currently engaged in a new series of town hall style meetings with SCB groups on the draft business model and governance structure (see updates below).
These next rounds of meetings are designed to address the concerns and questions summarized above as well as broaden the discussion with each of the SCB group's unique perspectives. The TIG will then incorporate all the collective reflections into the next iteration of the governance structure and business model. We look forward to providing transition updates over the coming months on these issues.
Transition Updates
April / May
SCB held town hall style meetings with leaders from Chapters and Working Groups and individual meetings with organizational members and Section presidents to discuss the goals and structural recommendations for transforming SCB into an equitable, decentralized global network that is inclusive of all groups and truly serves its diverse global membership.
July
SCB's Board of Governors approved a draft business model and global governance structure informed by reflections and feedback shared by SCB group leaders at the April and May individual and town hall meetings.
August
Meetings were held with presidents from SCB Sections, and leaders from Working Groups, the EID committee, governance committee, chapters, and the Disciplinary Inclusion Task Force (DITF) to share and discuss the draft business model and governance structure, receive feedback and recommendations from each group's unique perspective.
What's Next - September
Based on feedback from the August meetings with SCB Groups, the TIG will craft the next iteration of the business model and governance structure or approval by the BoG.
We look forward to reporting back on the next phase of the transition! In the meantime, if you have any questions or concerns please email the TIG (subject line SCB Transition to Global Network).
In continued collaboration.
SCB Transition Implementation Group