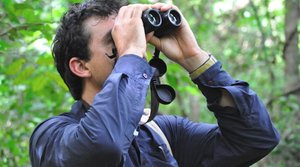 The Society for Conservation Biology is excited to announce Eduardo Gallo-Caijiao as the new Vice President for Education and Outreach on its Board of Governors. His four-year term begins 1 July 2018.
SCB members selected Ed after two rounds of voting that included candidates Toni Love and Jonathan Fink.
Ed grew up in Colombia where he trained as a biologist and conducted research on the effects of forest fragmentation on birds and supported the establishment on a new protected area in the Colombian Andes. He is currently finishing his PhD at the University of Queensland on global governance for conserving migratory birds.
A dual citizen of Colombia and Australia, Ed's work as a conservation practitioner and researcher covers the government and non-profit sectors, academia, and volunteer leadership in education and outreach.
"My background has allowed me to understand conservation from the ground to the highest political levels of international negotiations," Ed said in his campaign video for the position. "My personal experience has allowed me to understand conservation in a global context in which not only the biodiversity of all regions from around the world need to be considered, but also the difference voices."
Ed is actively engaged in conservation education and outreach in Australia where he serves as a tutor, leads bird watching excursions, participates in community work on vegetation management, and supports management efforts to reduce the negative impacts of commercial fishing on Australian waters.
In his new role with SCB, Ed hopes to integrate education and outreach throughout all SCB groups.
"My goal is to play an increasingly broader role in conservation through service, representation, and leadership," he said. "Two key aspects about this role allow wide opportunities to foster conservation. First, being part of SCB enables a global reach, not just across biodiversity realms, but also social dimensions, such as values, interests, and needs. Second, this post allows for fostering conservation through a multiplicative effect based on capacity building and shaping attitudes. I want to continue my contribution to conservation by serving the needs of diverse stakeholders and SCB members across all sections, chapters, and working groups."
Ed is a longtime member of SCB with service as co-chair the SCB Awards Committee and the ICCB Travel Awards Committee. He is a member of SCB's Social Sciences Working Group and its Oceania and Latin America and Caribbean Sections. He has attended the Society's International Congress for Conservation Biology in 2017 (Colombia), 2011 (New Zealand), 2009 (China) and 2007 (South Africa).
SCB is grateful to Toni Love and Jonathan Fink for running for the VP for Education and Outreach and for their dedication to serving SCB and its mission. The Society would also like to thank everyone who voted in the election. Just a few votes separate the top contenders and your voice is essential to the leadership of SCB and the Society's ability to carry out its mission to advance the science and practice of conserving Earth's biological diversity.
The Society extends a special thank you to outgoing board member Jacqualine Grant, a tireless organizer whose work in education, outreach, and student affairs has elevated the science and profile of dozens of young scientists through the ICCB Student Awards Competition.