SCB's Europe Section recently concluded its spring board meeting and has an updated plan of action based on the feedback received during last year's interactive membership meeting at ICCB/ECCB in Montpellier, France. The membership event was organized to identify how the SCB-ES board can support and strengthen conservation science and practice in Europe. The Section solicited ideas and suggestions from membership meeting participants, and received ideas and feedback from more than 70 conference participants. The feedback received allowed the Section to update its strategic plan and establish priority actions that further SCB-ES's mission and address members' priorities and interests. The priority actions that emerged from the members meeting can be found here, and are the focus of the Section's work for the next two years.
Since ICCB/ECCB 2015, SCB ES has been working to develop programs and activities to benefit its members. These benefits include a grant to support attendance to training courses for undergraduate and postgraduate students, as well as launching a new European Early Career Conservation Award (formerly European Young Nature Conservationist Award). Information on these opportunities will be on the Section's website by the end of April. SCB ES has also sponsored travel bursaries (valued at over 5000 €) for students to attend the Student Conference for Conservation Science (SCCS) in Cambridge (UK, March 2016) and Lake Balaton (Hungary, 30 August – 3 September 2016). Two board members attended SCCS Cambridge, where they presented SCB's opportunities for early career conservationists, engaged with students, and held a student blogging competition (offering monetary prizes and mentorship on scientific writing). The Section received several fantastic submissions and the winners were announced on 12th April. The three winning blog posts will be up on the SCB-ES Blog in early May. In addition to a student blogging competition, at SCCS Hungary, SCB ES will be hosting a Women in Science event as well as a workshop on how to harness active participation in professional societies to grow a career in conservation. SCB ES hopes to see many of you at SCCS Hungary.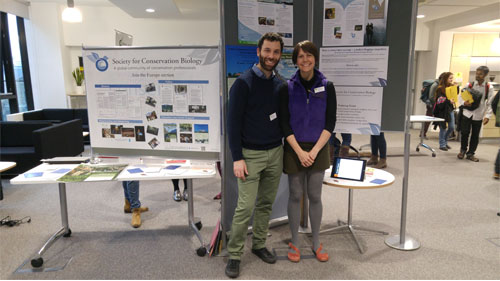 The recent months have also kept the Europe Section in suspense conservation policy-wise. In reaction to the ongoing Fitness Check of the EU Nature Directives that is currently carried out by the Commission, the Section issued the statement "Scientists call for strengthening the EU legal framework for nature conservation." It drew a lot of attention both among policy-makers and conservation biologists and was addressed in diverse public fora. Likewise, the Section expressed the serious concerns regarding the most recent move of the Polish government towards intensified wood harvesting in the world-famous Bialowieza forest. The Section is following up on both issues closely and preparing new actions in order to make science-based advocacy heard.
Our family is growing! A new European Chapter, the Nordic Chapter, of SCB has been formed. On April 21, about 40 conservation experts met at the meeting of the Swedish Species Information Centre annual conference in Uppsala, Sweden. A strategic plan was taken and a first board was elected with Prof Åsa Berggren as the first President.
The Section will be scientific sponsor of a workshop on active management of protected areas in southeast Czech Republic in early August. Information and registration information is available at http://www.forumochranyprirody.cz/workshop/forest.
As a new activity in 2016, the Section is starting an annual celebration of SCB on its birthday, May 8th. SCB ES will run various activities across Europe focused on activating students and informing them on SCB and conservation biology. Stay tuned on SCB ES's Facebook and Twitter accounts for updates and information on how to participate.
SCB ES would like to thank all members for their fantastic ideas and feedback! Thanks to your great ideas, SCB ES has started to generate greater opportunities with the hope of helping to support students and early career members.
---