The Europe Section Board met in Berlin in March 2017 for their first meeting with six new board members. A key topic of the meeting was planning for the 2018 European Congress for Conservation Biology (ECCB) meeting in Jyväskylä, Finland. The Board and the Local Organizing Committee are very excited to invite you all to Jyväskylä for the meeting from 12-15 June 2018! For more details you can follow us on Twitter: @SCBEurope and check the conference webpage. We will also have a Facebook group, so look out for this.
We are also excited to welcome four new members to the Board: Isabel Vique, Maylis Desrousseaux, Gabor Lovei, and Aniko Kovacs from all corners of Europe (Spain, France, Denmark and Hungary). The new members join Stefan Kreft and Francisco Moreira who were standing Board members (from Germany and Portugal respectively) re-elected to the Board, and also Bege Jonsson, Aidin Niamer, Petra Mihalic, and Steph Januchowski-Hartley (Sweden, Germany, Croatia and France, respectively) who were standing Board members (some in photo below). The new and standing members are very excited for the years ahead, and particularly excited for ECCB 2018, and look forward to seeing you all there.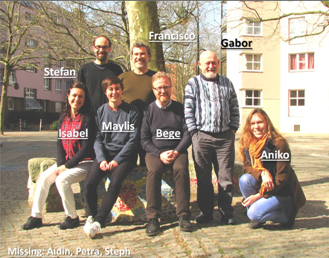 ATTENTION STUDENTS: The Europe Section Board would also like to bring students' attention to three opportunities to contribute to the Student Blogging Contests at SCCS in Cambridge, International Congress for Conservation Biology 2017 (ICCB), and SCCS Tihany. You can find out more by following SCB Europe Section on Twitter: @SCBEurope. LOOK FOR THE STUDENT BLOGGING CONTEST LOGO (below) at the conferences and SCB Europe Section will have more details on the ICCB and SCCS Tihany websites in the next few months, and will be sharing about these opportunities in the Facebook Group. If you have questions you can email stephierenee@gmail.com.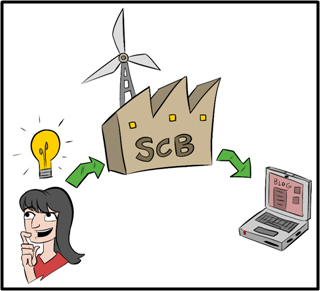 Finally, The European Section's AD HOC COMMITTEE FOR MEDITERRANEAN ECOSYTEM CONSERVATION HAS AN OPEN CALL FOR PARTICIPANTS. This committee was established in 2012 to tackle conservation issues in the Mediterranean regions of Europe. Now, the group believes it is the right moment to build its network to include individuals working on and interested in other Mediterranean areas in the United States, South Africa, Chile and Australia. The goal is to tackle cross-boundary challenges in these environments in relation biodiversity threats and conservation issues. If you work in one of these areas and you are interested in being part of the working group, please drop an email to isabel.vique@cantab.net. We look forward to meeting you!

---