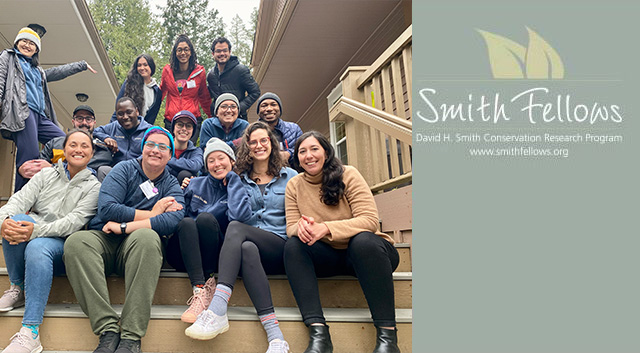 The Society for Conservation Biology is pleased to solicit applications for the David H. Smith Conservation Research Fellowship Program. These two-year postdoctoral fellowships provide support for outstanding early-career scientists who propose innovative ways to link conservation science and theory with policy and management. The Program supports and encourages Fellows to improve and expand their research skills while directing their efforts towards addressing conservation problems of pressing concern for the United States. Fellows are selected on the basis of 1) demonstrated excellence in research, 2) potential for innovation and leadership, 3) commitment to conservation, and 4) the strength of their proposal. We envision that the cadre of scientists supported by the Smith Fellows Program will continue to assume leadership positions across the field of conservation science.
The Smith Fellows Program and its administrative host, the Society for Conservation Biology, are committed to diversity, equity, inclusion and belonging (DEIB), and invite individuals who bring a diversity of lived experience and ideas to apply. We believe diversity promotes innovation and is essential to addressing complex conservation challenges, leading to more just, equitable and effective conservation goals. We are committed to an inclusive environment, ensuring that everyone connected to the program feels valued, supported, and empowered to thrive. Our commitment to DEIB extends to all aspects of the Program, including recruitment, selection, support, and advancement of our Fellows.
Each applicant proposes a team of at least two mentors to work closely with them during their Fellowship including: providing an 'institutional home' for the Fellow, helping with research design, connecting the Fellow and their research to practical applications, supporting the Fellow's professional development as a conservation scientist, and helping to build research skills, collaborations, and networks. At least one of the mentors should have a primary focus on conservation practice and will help connect the Fellow's research to practical applications and provide insight into the management and policy implications of the work. The mentor team is integral to the Fellow's and project success, and mentors are expected to be an active part of the proposed research plan and to meet with Fellows regularly to help shape and guide the work.
Fellows may be administratively based at (for example) an academic institution, Federal or State agency, or non profit organization, typically the location of one of their mentors. We encourage applicants to explore all options and are happy to answer questions or provide guidance to applicants regarding the administrative host arrangement. Fellows will spend up to three weeks per year during their fellowship attending Program-sponsored professional development retreats. These retreats provide opportunities to cultivate skills typically not covered during their academic education including: leadership, communications, development of professional and funder networks, policy-making, and the application of research to practice.
The deadline for receipt of application materials is 15 September 2023. The Program expects to select five Fellows in early 2024 for appointments to start between March and September 2024. Fellowship awards include an annual salary of $65,000, benefits, and travel and research budgets, as well as a lifetime membership to the Society for Conservation Biology.
For detailed proposal guidelines, please visit https://conbio.org/mini-sites/smith-fellows/apply/proposal-guidelines.
To access the informational webinar recording with application/selection process overview as well as FAQ, please visit: https://vimeo.com/442514562 *note the details remain the same, the deadline has changed.
APPLY ONLINE: All components of the proposal package will be submitted via the online application platform, including reference letters. Access it here: apply.smithfellows.org.
Questions may be directed to Smith Fellows program staff, by emailing smithinfo@smithfellows.org.