History of the Society
The Beginning...
Michael Soulé, Conservation Biology 1(1) History of the Society for Conservation Biology: How and why we got here Conservation Biology Volume 1, Number 1, May 1987:
"For the record, the Society for Conservation Biology originated about 5 p.m. on May 8, 1985 in Ann Arbor, Michigan, at the conclusion of the Second Conference on Conservation Biology. An informal motion to organize such a society was approved by acclamation, following reports by chairpersons (Jared Diamond and Peter Brussard) of two ad hoc committees. These committees met during the conference to discuss the need for such a society and for a journal. I was asked to take it from there."
The Society was founded in Ann Arbor, Michigan, on May 8, 1985. The Articles of Incorporation of the Society were filed in the State of California on April 8, 1986. The Society drafted bylaws at the same time. The bylaws have been amended numerous times by a vote of the membership since they were first drafted.
The first volume of Conservation Biology (CB) was printed in May of 1987 and included 25 papers. The 25 papers included in Volume 1 Issue 1 resulted from a conference held at the University of Michigan in May 1985. A meeting of the Board of Governors was held in Washington, DC on March 20, 1986. David Ehrenfeld was the first editor of our journal Conservation Biology. The first Board of Governors included Michael E. Soulé (President) and Peter F. Brussard (Secretary-Treasurer).
Brief Timeline of Events...
First Annual Meeting – 23-26 June 1987
The first Annual Meeting was held at Montana State University, Bozeman, from June 23-26, 1987. Subsequent meetings have been held across the United States, in Canada, Mexico, Australia, New Zealand, China, Europe, Brazil, and more.
First Formal Strategic Planning – February 1999
In February 1999, SCB held its first strategic planning session in Santa Barbara, California. At that first meeting, members of the Board of Governors developed a three-year work plan for SCB and prioritized a set of actions for SCB to undertake. These included the creation of Regional Sections and the approval of Conservation magazine (Cm), a new magazine for conservation professionals.
Conservation magazine launched– April 2000
Conservation magazine (Cm) was launched in the spring of 2000. Designed to complement CB, Cm made current conservation biology tools, techniques, and case studies more accessible to practitioners, policy makers, and many others. As of 2014, Cm has been renamed Anthropocene and is now published by the University of Washington.
Creation of 7 Regional Sections – 2000
The Board of Governors approved the creation of seven Regional Sections, one for the marine realm and one each for Africa; Asia; Australia, New Zealand, and Pacific Islands; Europe; North America; and South and Central America and the Caribbean. These Sections were formed over the following two years and are now vital elements within the Society working regionally on issues to achieve our common goal.
Executive Office established – October 2001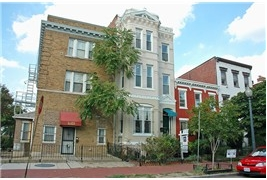 With various proposals for an executive director and/or a policy office in Washington, D.C. discussed by the Board of Governors for more than a decade, at its meeting on 11 June 2000 the Board passed a resolution to establish an Executive Office. The long-awaited SCB Executive Office was launched on 1 October 2001 in Arlington, Virginia, USA with Dr. Alan D. Thornhill serving as the first Executive Director. In 2008 the Executive Office moved into the Society's own building in Washington DC, USA.
SCB assumed leadership of David H. Smith Conservation Research Fellowship Program – June 2005
The late Dr. Smith, the founder of the Cedar Tree Foundation and a pioneer in the field of conservation biology, established the Smith Post-doctoral Fellowship in 1998 with a grant to The Nature Conservancy. Since its inception, the Smith Fellowship has identified and supported early-career scientists who will shape the growth of applied conservation biology. The Conservancy oversaw the program for six years, supporting 34 post-doctoral fellows and providing TNC conservation mentors to these young scientists. Beginning with the Smith Fellows Class of 2006, SCB now leads the fellowship, and Dr. Michael Dombeck serves as Executive Director of the Program.
Second formal Strategic Plan – July 2005
A year-long strategic planning process culminated in July 2005 leading to a new mission statement, new goals, and a five year plan that was approved by the SCB membership at the Annual Members Meeting in Brasilia, Brazil.
SCB establishes a Policy Program - January 2007
John Fitzgerald was hired as SCB's first policy director to lead SCB's policy office in Washington, DC, USA. The goal of the program is to inform policy with conservation science. Initially, the Board of Governors and Policy Committee chose five issues for Policy work to be led by the Executive Office and the Policy Committee; Climate Change, Scientific Integrity in Government Decision Making, Empowering Key Treaties and International Agreements affecting Biodiversity, Biological Security, and Investment and Procurement.
Third formal Strategic Plan - September 2010
In September 2010, a new strategic plan was approved for 2011-2015.
Fourth formal Strategic Plan​- February 2016
SCB developed its current strategic plan to create a common vision for the organization, focused on five strategic areas for the period 2016-2020.
---
For more about the history of Conservation Biology, read "A Mission-Driven Discipline'': the Growth of Conservation Biology (351kb pdf) by Curt Meine, Michael Soulé, and Reed Noss.