Introduction
The India Chapter of the Society for Conservation Biology was launched at a two-day conference organised on 19-20 March 2018 at the Institute for Forestry and Wildlife Sciences, Amity University, NOIDA, which is located in the National Capital Region of Delhi (NCR). Faculty from Amity Institute of Forestry & Wildlife organised the conference with support from SCB Asia Section and four leading non-profits in India – WWF-India, Ashoka Trust for Research in Ecology and Environment (ATREE), Wildlife Trust of India (WTI) and Corbett Foundation. Dr. Ghazala Shahabuddin, current SCB Asia Board Member and Dr. Murali Krishna from Amity Institute co-chaired the event. The conference was supported by a Scientific Committee drawn from research institutions, non-profits and universities in the Delhi region and nearby areas.
The inaugural session of the India Chapter had been advertised 3-4 months in advance, and drew an enthusiastic response from all over the country. As many as 200 participants (including 150 students, four plenary speakers, 14 resource persons, 22 volunteers and support personnel) representing 20 different states of India (and Nepal and Bangladesh) attended the event. The conference included the inaugural session for India Chapter, student poster sessions (41 student posters), four plenary talks, 16 student talks, nine skill-building workshops and a lively panel discussion involving eminent experts. The whole event received good feedback from the participants.
The inaugural session of the India Chapter was an important part of the event which was attended by all the conference participants. This session was led by Ahimsa Campos-Arceiz, Ghazala Shahabuddin and Alice Hughes from Asia Section Board of SCB, who explained the aims of SCB, objectives of starting an India Chapter, the benefits of being an SCB member and the modalities involved. Ahimsa and Alice also described the ways that other country chapters that have already been set up and their strategies and priorities. They stressed the need to use the SCB platform for capacity-building in the area of conservation as well as policy advocacy on critical issues facing India's biodiversity and ecosystems. The discussions during the inaugural session led to nominations of eight persons including professors, practitioners, researchers and students from seven different Indian states, who were interested to serve on the Board of Directors of India Chapter in 2017-18. It was also decided that Amity Institute for Forestry and Wildlife Sciences would serve as the hub for organising the India Chapter events during the next few years.
The activities for the first year of the SCB India Chapter were also discussed. As a start, the group unanimously decided to work on urgent policy issues in a concerted way as there are several detrimental on-going processes that seriously threaten biodiversity conservation such as dilution of environmental regulations and changes to forest and wetland laws. In terms of capacity-building, it was decided to hold workshops and skill-building in neglected areas such as social science research method, research design and writing skills. Finally, there was enthusiasm for repeating the event held at Amity University during the year 2019, and there were offers from a few participants to host such an event in the north-eastern part of the country, which is least serviced in terms of ecological and wildlife training and exposure to international scholarship and developments. Thus it was decided to hold the next event possibly in Tezpur University in the state of Assam next year, with involvement of students and faculty, as well as conservation practitioners from that part of the country.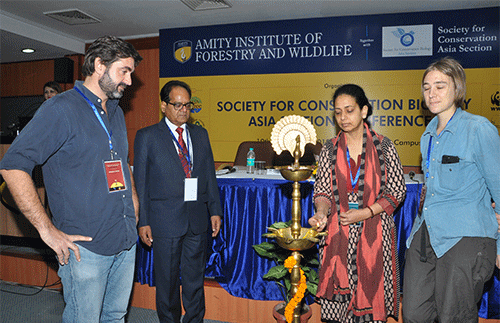 Plenary Talks
Four distinguished plenary speakers were invited who spoke on various aspects of wildlife ecology and conservation. Shri. H.S. Panwar, (IFS, Retd.) and Founder Director, Wildlife Institute of India, Dr. Aparajita Datta, Senior Scientist, Nature Conservation Foundation, Mysore, Dr. Sejal Wohra, Programme Director, WWF, India and Dr. Ahimsa Campos-Arceiz from Nottingham University, Malaysia Campus gave the plenary talks which were very well received. The talks were followed by student interactions with them during talks, posters and workshops.
Workshops
A total of nine workshops on various aspects related to conservation biology were offered by eminent senior researchers and practitioners from the country and abroad. A minimum of 10 participants were present in each of the workshops which were 2.5 hours long.
Panel Discussion
A panel discussion was organised with the help of several experts on the topic – 'My Way or the Highway: Tackling Threats to Biodiversity from Infrastructure and Industry'. The panellists- Neha Sinha, Bombay Natural History Society; Prerna Bindra, wildlife writer and journalist; Kanchi Kohli, Centre for Policy Research; H.S. Pabla, Indian Forest Service and NPS Chauhan, Professor in Wildlife Sciences discussed the nature of developmental threats to wildlife and how to mitigate them. The participants had a chance to interact with these eminent scientists and IFS officers.
Way Ahead
Given the high degree of enthusiasm amongst the attendees and within Amity University for such activities and the tremendous response to the call for papers and posters, nominated Board Members of the proposed India Chapter have proposed to work on various activities such as (in order of priority):
Registering the India Chapter with the SCB-Global following due process as outlined
Canvassing for registration of members both for SCB and for the India Chapter through a Google groups network and thus creating a current membership list
Initiating work on the proposed activities for the next one year (until March 2019).
Setting up a separate website for the India Chapter that can be linked to the Asia Section website.
---