By Sam Oester and Steph Januchowski-Hartley
As conservation scientists and practitioners, we are passionate about the work we do to conserve ecosystems and species. Many of us want to share our knowledge and passion about the environment with others outside of our workplace or immediate peer group, but sharing about these often complex topics can be challenging and overwhelming. With this in mind, two SCB scientists, Sam Oester and Steph Januchowski-Hartley, have been exploring different ways of sharing and communicating with others about the environment and conservation. Sam and Steph are exploring the use of poetry and photography as a way of communicating about different, but often interrelated, environment and conservation topics.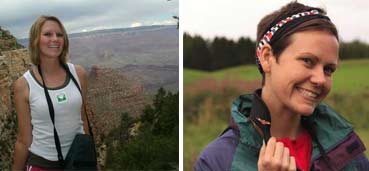 The project is called 'Conservation haiku' and started via the social media platform Twitter. Sam and Steph met during communication committee meetings for the 2015 International Congress for Conservation Biology (ICCB 2015) and soon followed each other on Twitter. After sharing a few haiku on Twitter, the two decided to start a project together, each writing and sharing a conservation haiku on Twitter once a week for a year. What started as a small Twitter endeavour between colleagues has now grown. The two have been working to share their haiku and the project with others through events like ICCB 2015, where they worked collaboratively via the Marine Section and Freshwater Working Group to create cards displaying haiku, photos and information about the two aquatic groups as part of the new SCB Aquatic partnership.
Sam and Steph are currently working to integrate conservation haiku into current outreach and mentoring programs they are involved in, speaking with students of all ages in England, the United States and Haiti. The idea is to get students excited about the environment by pairing short messages (the haiku) with striking images, and to have activities that include Sam and Steph sharing their creative project, as well as students writing and sharing their own haiku about the environment around them.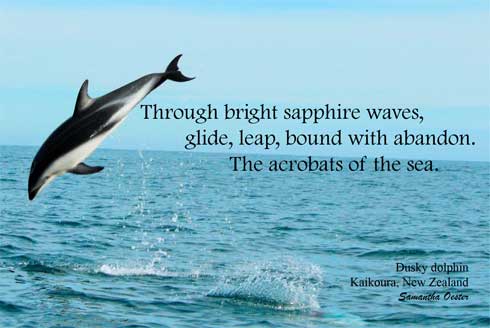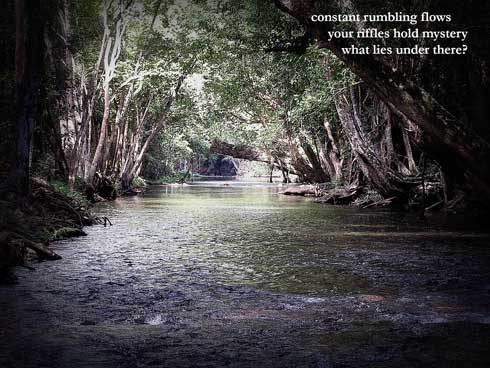 A project that started as sharing a few haiku on Twitter is now flourishing, and Sam and Steph started a blog, conservationhaiku.org, where all of their conservation haiku and related images are being shared, along with more detailed information on the topics covered in the haiku. Finally, for those planning to attend the 4th International Marine Conservation Congress, stay tuned--there might be an opportunity to learn more about creative conservation communication and combining art and science with Sam, Steph and Anna Zivian, another SCB member.
To learn more about the conservation haiku project, you can head over to conservaitonhaiku.org and follow Sam (@SamOester) and Steph (@ConnectedWaters) on Twitter.