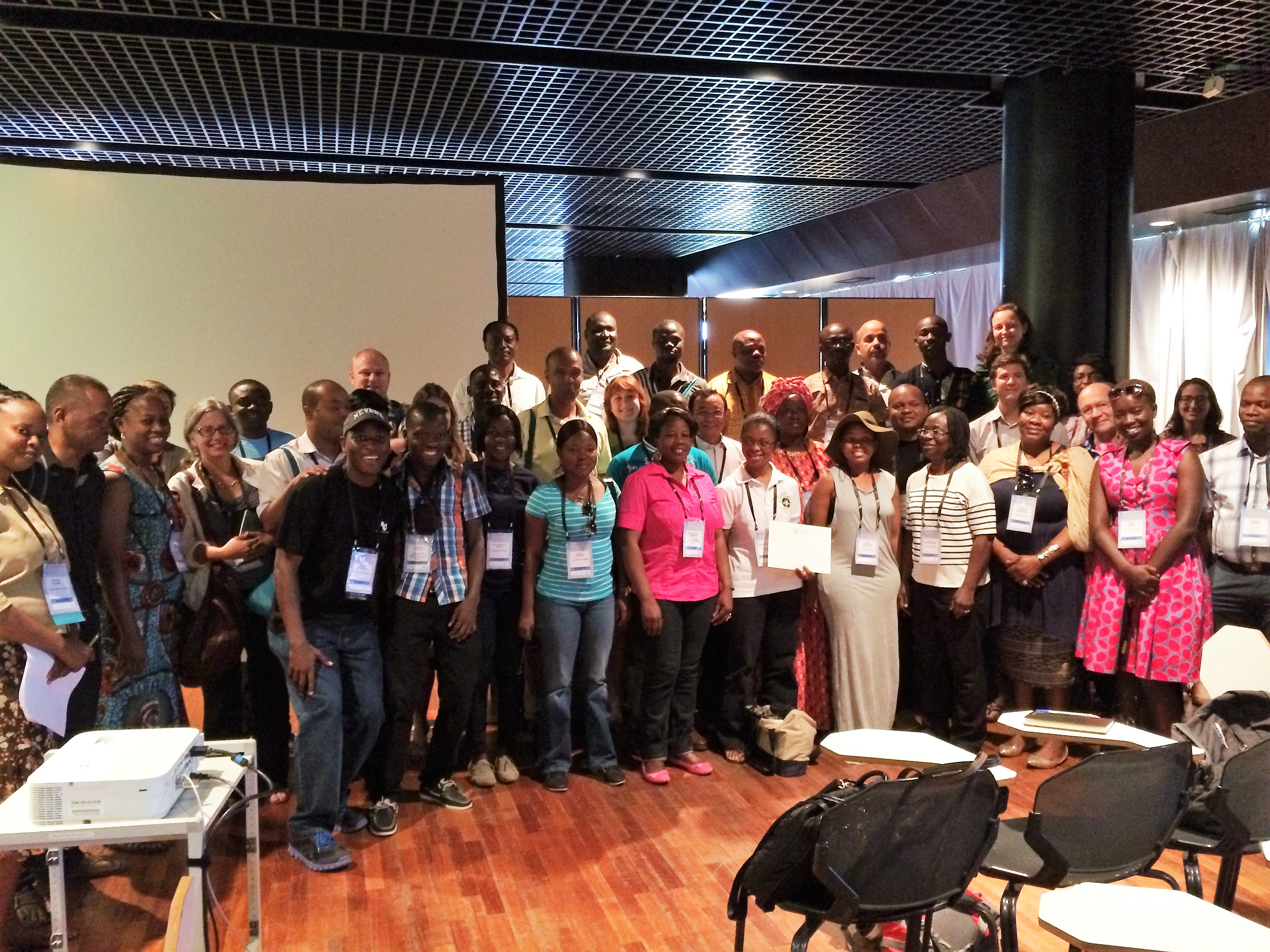 Africa Section meeting at ICCB 2015.
BUSINESS MEETING: The section business meeting was held during the 27th ICCB in Montpellier, France, and attended by about 60 people from 18 countries including South Africa, Tanzania, Kenya, Nigeria, Ghana, Liberia, Benin Republic, Algeria, Morocco, Zimbabwe, Botswana, Rwanda, Ethiopia, Cameroon, Madagascar, Zambia, Uganda and Cote d'Ivoire. Achievements of the section in the previous year were highlighted, including: Development of Strategic Plan for the Section; Resuscitation of the African Conservation Telegraph; Re-launch of the E-mentoring programme; Revitalization of the SCB Young Women Conservation Biologist (YWCB) group and publication of a position paper on the effect of expanding industrial oil palm plantations on the tropical forests of equatorial Africa. Furthermore, the section's strategic plan for 2015-2017 was described. During the meeting, Ms. Julie Hanta Razafimanahaka from Madagascar was given the Young Women in Conservation Biology (YWCB) award.
NEW CHAPTERS FROM AFRICA: Members were encouraged to form chapters in their respective countries during ICCB. Consequently, five new chapters have been proposed in Africa: South Africa, Kenya, Ghana, Liberia and Madagascar. Additionally, members in neighborhood of South Africa could potentially join the South Africa chapter till they have enough members.
STRATEGIC PLAN FOR 2015-2017: Taking a strong initiative towards taking the section to greater heights, the Board of Directors (BoD) developed a strategic plan for the Africa section, whose core objectives are: Accessibility of SCB Membership and its benefits to Africans; Conservation of biodiversity through linkages between conservation scientists and policy making organs; Development of conservation science at all levels of education, mentoring, training and to facilitate access to relevant data and information; and Influencing conservation initiatives in Africa by applying current thinking and state of the art approaches.
GRATIS MEMBERSHIP: In line with the core objectives of the section and the strategic plan, the section BoD announces free membership for 50 people in Africa. Focal groups will include, but not limited to East Africa, North Africa and Francophone West Africa. Details are being prepared and will be announced shortly.
AFRICAN CONSERVATION TELEGRAPH: An annual trend analysis of topics published and country focus in the ACT gives useful insights into the work ahead for the SCB Africa Section to broaden its horizons for the larger cause of biodiversity conservation in Africa. Click here to read the latest issue of ACT.
AFRICA SECTION COMMUNICATIONS/E-MENTORING PROGRAMME: A total of 17 mentees were selected for the mentoring programme of October 2014-2015 cycle. Evaluation of the programme by the mentees indicated above-average performance and progress in their mentoring activities. Two mentees have already obtained grants worth about £15,000 from the Rufford Foundation.
AFRICA SECTION AND SOCIAL MEDIA: The "SCB Africa Section" Facebook group social media platform is used in addition to the mailing list for communication and exchange of important information and research ideas. Everyone is welcome to join the Facebook group.