A Compassionate Mind – The Life's work of Sheila Siddle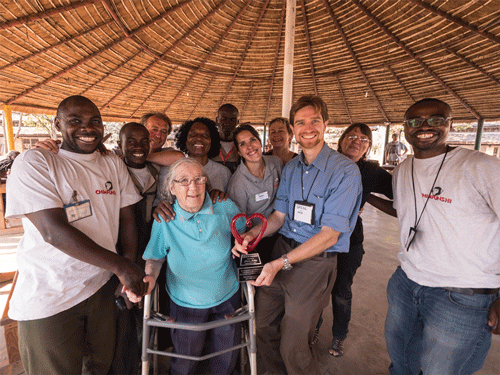 By Natasha Tworoski
Pan African Sanctuary Alliance (PASA), Portland, Oregon, USA
In September 2017, the first ever "Circle of Compassion" award was presented to Sheila Siddle, co-founder of one of the largest and oldest chimpanzee sanctuaries in Africa, the Chimfunshi Wildlife Orphanage in Zambia. The Pan African Sanctuary Alliance (PASA), gives this award to acknowledge the significant sacrifice and dedication shown by the extraordinary leaders who have given their lives to protecting our planet's wildlife. Sheila fits that description.
After raising five children and running a cattle farm for many years in Zambia, Sheila and her husband David Siddle were looking forward to life slowing down a bit on their property, Chimfunshi. Meaning "place of water" in the local language Bemba, Chimfunshi is situated near the Kafue River and was meant to be their home for a quiet retirement. However, on October 18, 1983, their game warden son-in-law showed up with a severely injured and traumatized infant chimpanzee named Pal. Despite raising cattle and keeping many pets, they had limited knowledge about wildlife rehabilitation and knew nothing about chimpanzees. Yet, they provided comfort, love and cared for Pal till his wounds healed. Pal would still suffer from severe nightmares and seizures, possibly due to the head trauma he had sustained before his rescue. Six months later, a second chimpanzee named Liza was rescued in a similar condition and was also nursed back to health by the Siddles.
While chimpanzees are no longer endemic to Zambia, at that period it was quite common for chimpanzees to be smuggled south from the Democratic Republic of Congo for the pet trade. When the Zambian government began enforcing laws against keeping wildlife as pets, Chimfunshi received many orphaned chimpanzees from government officials. While chimpanzees can be handled as infants, their behavior and strength make them unsafe to keep as adults. So, enclosures were built to safely house the chimpanzees. Today, the Chimfunshi Wildlife Orphanage spans over 10,000 acres and is home to 120 chimpanzees, including Pal, its first inmate.
The conservation community took time to acknowledge the work done by Sheila due to teething troubles faced by the new chimpanzee sanctuary. When Dr. Jane Goodall saw their incredible achievements, she became an advisor and friend to the Siddles. In 1990, Jane even personally escorted an elderly chimpanzee named Milla to Chimfunshi after her owners at a bar in Arusha, Tanzania asked for help in finding Milla a good home.
During the award ceremony in September, Sheila was feted as a role model for many of Africa's primate sanctuaries that have taken after Chimfunshi. The award ceremony included a speech by Franck Chantereau, cofounder and director of the PASA chimpanzee sanctuary J.A.C.K. in the Democratic Republic of Congo, who recalled reading about the Siddles' endeavors as a child when he was growing up in France. One of PASA's founders, Doug Cress, was unable to attend, but sent a beautiful letter describing the emotions and inspiration he felt when Sheila introduced him to his first rescued orphan chimp. Doug's letter was read by Bala Amarasekaran, founder and director of Tacugama Chimpanzee Sanctuary in Sierra Leone. Sheila was presented with the award at Chimfunshi when attendees of PASA's annual strategic development conference visited for the day. Sheila was honored with a ceremonial tree-planting ceremony at her beloved sanctuary in the presence of veterans and young conservationists.
The Pan African Sanctuary Alliance (PASA) is an association of 23 primate sanctuaries across Africa, like Chimfunshi Wildlife Orphanage, and whose members provide high quality animal husbandry and veterinary care for their rescued primates, as well as conservation educational opportunities. Some of these sanctuaries participate in field research and work to return rehabilitees to the wild when appropriate. PASA offers them networking opportunities, emergency funding and professional development training.
Chimfunshi Wildlife Orphanage has opened a school on their grounds for local children, a health center for the local communities, and provides jobs and housing to local Zambians. Sheila's energies are directed towards better quality of life for chimpanzee and local people alike, and her autobiography is titled In My Family Tree: A Life with Chimpanzees (Grove Atlantic, NY, 2002).
---