Caring for Wild Africa
By Petronel Nieuwoudt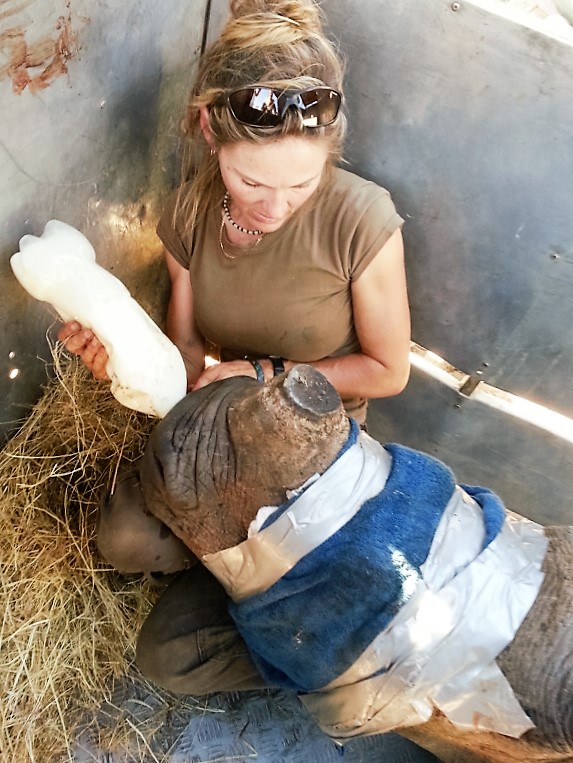 Petronel feeding rhino calf. Photo credit: Petronel Nieuwoudt.
I grew up in a farm in South Africa when illegal hunting and poaching of wildlife were rife. I joined police service and quite naturally gravitated to working with their endangered species unit to try care for confiscated wildlife. I understood wildlife rescue had a broader scope and learnt concepts in rehabilitation from my peers. In due course, and after leaving police service, I started up a small wildlife care center, Care for Wild Africa (CFWA), in a deep valley sheltered in the rugged Krokodil poort mountain range, (Krokodil poort means the Crocodile Mountains in Afrikaans), named so because the hills look like the raised ridges of a crocodile's skin.
CFWA is home to 22 rhinos (both black and white rhinos); 2 hippos; a menagerie of carnivores including lion, caracal and serval; antelopes including grey and red duiker; and birds including four owl species, namely, wood owl, spotted eagle owl, barn owl and marsh owl. CFWA is located within a larger wildlife conservancy that encompasses an area of 3000 hectares. This access to a pristine habitat affords access to selected release sites for our wildlife inmates under rehabilitation. The center owns 350 hectares, which may not sound like a great deal of territory, but the topography of the area enhances the actual area.
CFA's establishment coincided with the sudden and devastating increase in rhino poaching. The population hardest hit by this wave of slaughter has been the Kruger National Park population. We worried about rhino calves orphaned from all over the park and surrounding areas. Up until 2012 I had only ever cared for one white rhino calf. In the 3 short years since that number jumped up to 22 rhinos. Coping with the sheer influx of traumatized animals virtually burnt us out.
Traumatized rhino calves are potentially dangerous and extremely difficult to handle. Many of these calves are not yet weaned and are dehydrated and or injured, but wild animals nevertheless. We developed a system that allows us to treat and handle displaced rhinos, safe for us humans and the rhino calves as well. We use a crate to house the newly arrived animal. This crate is made of steel and wood and is small enough to restrict a rhino calf from charging the care giver, but large enough to allow it to lie down comfortably. The crate is lined with grass and there are overhead infrared lights to provide the essential warmth. Upon arrival, the new calf is assessed by a veterinarian and given intravenous fluids as assessed. The crate works well in calming animals and protecting the people working with the calves. Soon a calf starts drinking milk from a bottle and this is a happy occasion for us.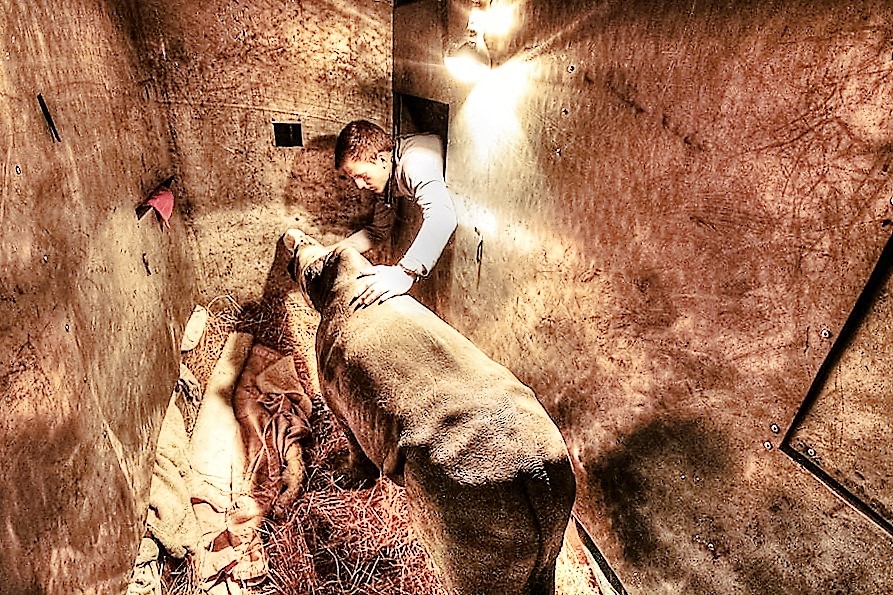 Inside view of rhino crate. Photo credit: Petronel Nieuwoudt.
Once calmed and drinking bottle fed milk the calf is moved to a wooden poled boma, where it is integrated into a small group of animals that are in the same age class. From the wooden boma the animal is moved to a larger outside mesh fenced enclosure. We aim to release the rhinos into the larger reserve area of Kruger, which currently has no wild rhino population.
The costs of rhino rehabilitation can be prohibitive. Each liter of milk that a rhino calf drinks costs R 7.00 and extra nutrients constitute the mixture. Rhinos are not ruminants and cannot be fed high fat cow's milk; injured animals need repetitive veterinary care, drugs and equipment. The boma is built of expensive materials and costly labor. The calves are at great risk to poaching themselves and have to be protected by armed guards as well as continuously dehorned. Besides milk, the rhinos need either lucerne or good quality grass (teff) to be provided in large quantities as they are hind-gut fermenters with very sensitive digestive systems. A small army of workers cares for our rhinos. So how do we circumvent these massive logistical and cost challenges with no formal or governmental financial support?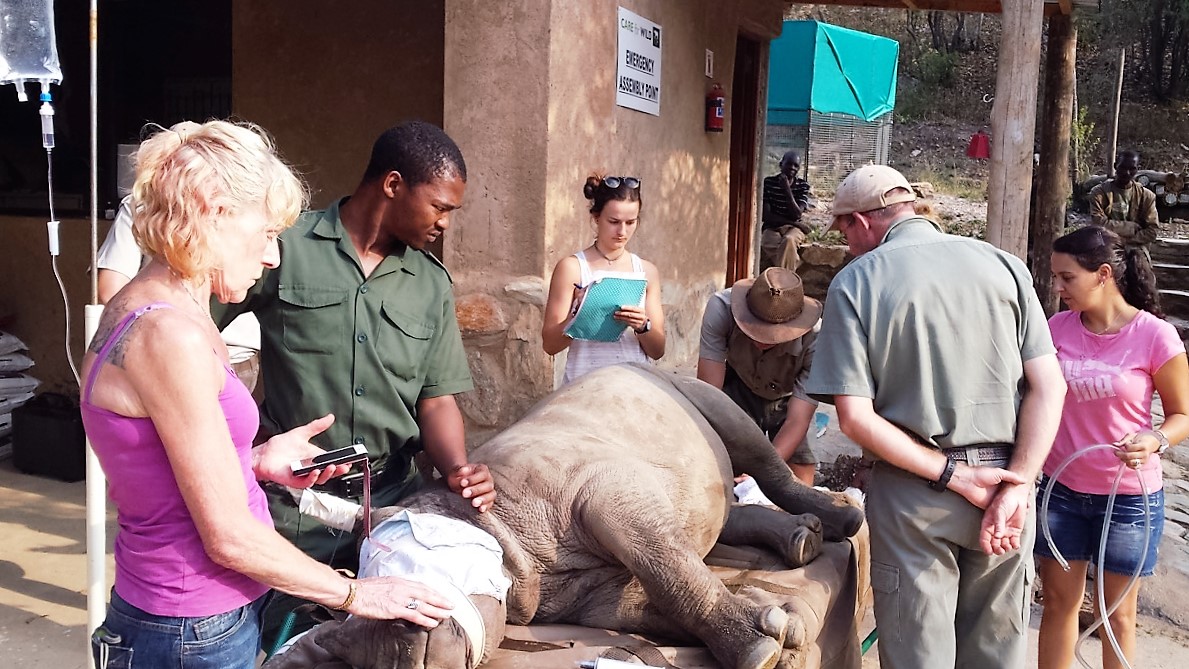 Rhino clinical examination. Photo credit: Petronel Nieuwoudt.
At CFWA the answer is two-fold. The first lies in the efforts of our selfless and wonderful volunteers. These volunteers not only have work tirelessly but also spend for themselves as well as the animals they care for. Our volunteer program is our core strength and conservation awareness our most powerful weapon in the fight against loss of species, and over the years we have been able to educate hundreds of influential people about the incalculable value of Africa and its unique animals. Then we receive generous support in donations from a number of key partners. Thus the center is run completely from the efforts and finances provided by the private sector.
Our story is not complete, and until the scourge of rhino poaching is brought to an end, we will have to be ready at any moment to take in another orphaned rhino calf.
---
Petronel Nieuwoudt is the Director of Care for Wild Africa (CFWA) in South Africa.