In memoriam- A force of nature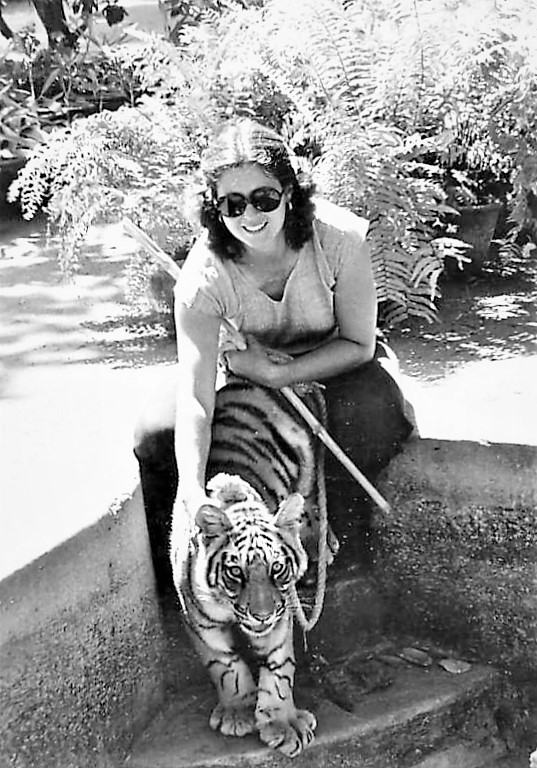 By Murali Pai
In the early nineties, on a hot summer day in Coimbatore, India, I walked into the office of Zoo Outreach Organization (Zooreach), to meet with Sally Walker, and begin work as a veterinary consultant. Sally literally lived in the office and was on a diet of 'musambi' (Citrus limetta) juice and fried unsalted peanuts brought time to time by Sarojamma, who was her housekeeper-dispatch technician. Sanjay Molur had joined earlier as program officer, R. Marimuthu worked as education officer and Latha Ravikumar was the office manager. My future boss, Ashraf Kunhunu, worked in the neighborhood as director of Coimbatore Zoological Park, for which Sally was an advisor.
Sally first came to India to learn yoga and Sanskrit, and her travels took her to Mysore zoo where she seized an opportunity to hand-raise an orphaned tiger cub. She told me, "I went into the tiger enclosure and never came out." A volunteer group, 'Friends of the Mysore Zoo' was her brainchild to foster conservation ethics among zoo visitors and in the due course Zooreach was born. She believed in long term return of investments from zoological parks and their potential to salvage bits and pieces of biodiversity in a world fraught with species extinctions. Frogs, tarantulas and bats were as important as any charismatic species in Sally's view. The Journal of Threatened Taxa is an epitome of the Walker who walked the talk.
Sally became an ardent advocate of zoos in India and began publishing Zoo's Print and Zoo Zen from Coimbatore where she dropped anchor at the behest of her friends. Sally's biggest cheerleader and first donor was her father who barely ventured outside Goldsboro, North Carolina. When I asked her why her dad wouldn't visit Coimbatore? Sally replied, "Are you crazy? He would have a heart attack just by seeing the traffic on the way to Peelamedu."
Here are six takeaways from the lady's illustrious life:
1. Outreach, networking, capacity building and education are the four pillars of conservation. Learn some, unlearn some, and work for the long haul with resource persons. Many years after I had moved on, Sally wrote me an email about a sick zebra in a far-flung zoo. She knew my equine vet skills and wanted me to assist with the animal's recovery. I discussed the problem in detail with the attending vet and together helped the zebra regain health.
2. Communicate clearly for conservation (3Cs). Sally wrote/spoke in pithy, jargon-free and concise English. Every journal submission would be given due consideration. She was a wordsmith who also took pride in the work of authors, artists, reviewers and staff who produced the Zooreach journals for 35 years with clockwork regularity! Sally inspired a bunch of amateurs to satisfying careers in conservation biology, myself included.
3. Love and care of animals/personnel. Sally loved companion animals and reared a Saluki and Persian cat at the office during my stint at Zooreach. No wonder she was hands-on with a tiger cub when the occasion arose. One year she rode the Greyhound bus in the U.S. for months to visit the best zoological parks with the aim to assist with zoo planning in India. She cared for biologists, vets and animal keepers in South Asia and beyond. I know primatologists in Vietnam with fond memories of Sally.
4. Humor is a good balm. Walker was whacky and could fall off her chair in a fit of laughter. She had a matching temper as well. Those who knew her would agree with the Tamizh proverb, "Anger and nobility usually go together." She once wrote a whodunit story published as a serial in the newspaper Indian Express. Sally reasoned, "Conservation is a dour profession, and a prank or two keeps you sane." Truer words were never spoken.
5. The value of teamwork. Sally raised troops which stuck to her like a stick in the mud for years together. Although a hard taskmaster, she was a yogi who did her own karma under self-inflicted pressure. She was not talkative but articulated her ideas superbly over emails and didn't appreciate intruders in her office space. That said, Sally was family to her team and vice versa.
6. Spearheading conservation awareness. Sally was a great teacher and excelled at presenting intense ecological facts in simply charming terms, especially to school going children. She believed kids were the best ambassadors of conservation and devotedly designed kits for them with pictorial guides, animal masks, and games for distribution during 'wildlife week' celebrations in schools across India. Sally was a sought-after zoo educator and would be badly missed by her colleagues at the Conservation Planning Specialist Group.
Many years ago, Sally Walker campaigned for conserving bats saying, "let's bat for bats." This special ACT issue on conserving bats in Africa is our tribute to a legend.
---
Murali Pai is editor, ACT