In Memoriam- The Man Who Loved Frogs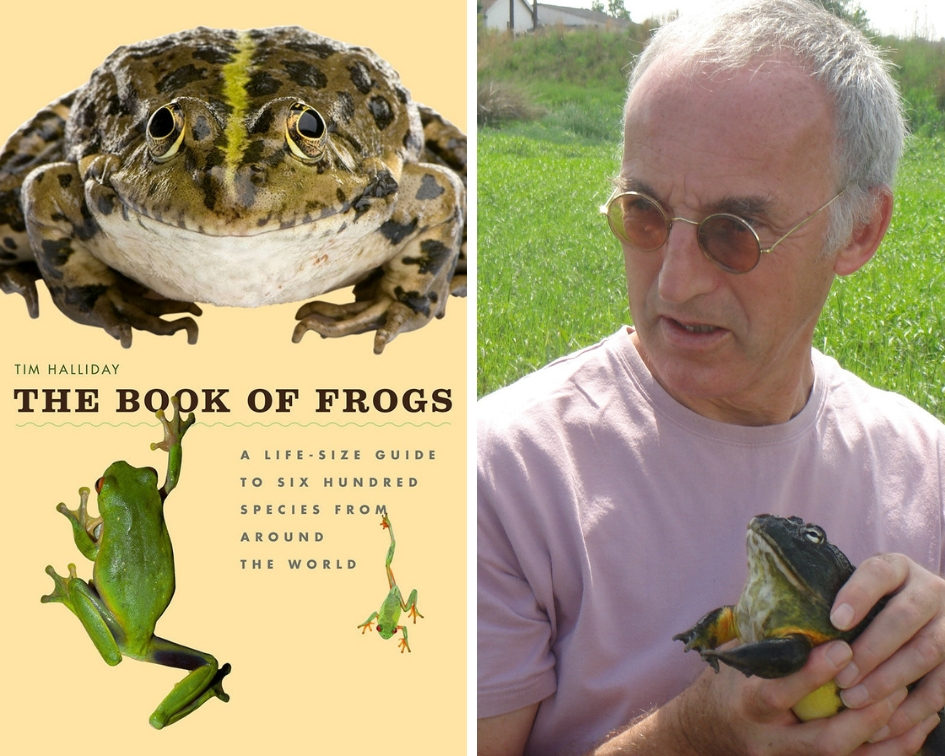 Right photo credit: Miranda Dyson
By Steven J.R. Allain
The late Tim Halliday was regarded by many as one of the world's foremost authorities on amphibians. Despite never actually meeting Tim, we exchanged several emails about newts, something I will always remember him for. Tim is well known among the amphibian community for having cracked the 'mating dance' of European newt species such as the smooth newt (Lissotriton vulgaris). As well as being a great champion of amphibian conservation, Tim was formerly a Professor of Biology at the Open University, where he supervised my undergraduate project tutor, Rachel Grant. It is not just herpetologists who will mourn the loss of Tim as his writing had a much deeper impact especially since the publication of Vanishing Birds in 1978.
Up until his death, Tim lived in Oxford where he also graduated from with a degree in zoology. It is apparent to anyone that knew him or read his books, Tim loved art. He loved to draw frogs, salamanders, birds and other wildlife which have adorned posters, flyers, reports, books and walls alike. The most recent addition to my library authored by Tim is a book published in 2016 titled The Book of Frogs. What an amazing book it is! It's over 600 pages long with life-size photos of 600 frog and toad species from around the world. Professor Halliday also published over 170 scientific articles and helped influence and guide a number of current eminent amphibian conservationists such as Professors Richard Griffiths and Phil Bishop.
The one thing that sticks out in my mind as the most crucial role that Tim played was as the International Director of the IUCN Declining Amphibian Populations Task Force (DAPTF), a post he filled between 1993 to 2005. The DAPTF was originally established in 1991 following the 1st World Congress of Herpetology in Canterbury in 1989, where it became apparent that amphibian populations around the world were declining at an alarming rate. In order to help find out why and to try to prevent these, DAPTF was set up to help the greatest minds in the amphibian world to solve the mysteries. Nowadays we know DAPTF as the Amphibian Specialist Group (ASG) of which is still carrying on the great work that Tim helped to initiate. Back in 2005, when Tim stepped down as the head of the DAPTF, I was only just beginning to understand the true scale of amphibian declines across the world. One of the most recent issues of Froglog, the ASG and Amphibian Survival Alliance (ASA) joint newsletter, was dedicated to Professor Halliday. If you trawl back through the Froglog archive, you'll be able to find several of Tim's pieces of art adorning the top of the newsletters.
Tim's involvement with amphibians also saw him helping with AmphibiaWeb which went live in February 2000. Tim was responsible for monitoring the scientific literature on amphibian declines where he prepared a monthly literature update starting in 2004. This growing list became a popular feature with me and many other amphibian biologists. The important thing Tim did was to scour obscure journals as well as the prominent literature. This helped some research which would not ordinarily be seen much needed attention. Tim leaves a legacy of a lifetime dedicated to amphibian conservation and supporting those that shared the same interest.
---
Steve Allain is a herpetologist and doctoral candidate at the Durrell Institute of Conservation and Ecology, Canterbury, UK