New Partnership to Preserve Legacy Wildlife Research
Monica Morrison, Principal Investigator, GBIF-BID Hunting Records Project
In 2014, the Government of Botswana, concerned by the increase of the illegal wildlife trade, suspended all hunting in the country. Visitors to the country are now increasingly capturing their trophies in the form of digital images that they share with friends and family through email and the Internet. Hunting safari companies making the transition to operating photographic camps are using their experience and expertise to attract new tourists to Botswana's northern wilderness areas. And the data and information about wildlife collected by the industry over 20 years is now being preserved for the use of conservation researchers world-wide through an innovative partnership among the Botswana Wildlife Management Association (BWMA), the University of Botswana's Okavango Research Institute (ORI) and Botswana's Department of Wildlife and National Parks (DWNP).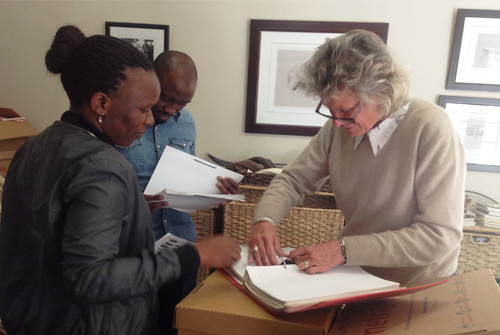 The GBIF processing team. Photo credit: Monica Morrison.
Information collected by the BWMA about quotas, capture locations, and trophy measurements, as well as biological specimens, forms an important piece of the knowledge legacy of the industry's Botswana operations. Recognising the valuable insights to wildlife research that these materials can provide, the Association is working with the University of Botswana's Okavango Research Institute and the university library's special collections unit to catalogue and transfer the materials and data to ORI's library collections in Maun, and to a globally accessible online database. The DWNP is providing guidance and advice to the project.
"The Association feels strongly that the knowledge accumulated through the industry's work in Botswana should support developing the ongoing economic potential of tourism in the country,"says Association Secretary Debbie Peake. "Our research results, records of wildlife sightings, and the biological data we have collected about herbivores and carnivores, can be put to use by scientists to better understand our animal populations, and by government to make sure wildlife continues to be managed well."
The Okavango Research Institute's Acting Deputy Director, Research Services and Training, Keta Mosepele, applauds the Association's commitment to preserving and sharing its knowledge resources, saying, " The information collected by the hunting industry contains unique and irreplaceable data that, when analysed by scientists, can be used for the sustainable management of wildlife in our country. We are delighted that the BWMA's records can find a home in our library archives here in Maun, where the safari industry got its start."
The work is being supported by the Global Biodiversity Information Facility (GBIF), an international network of government bodies set up to inform better decisions to conserve and sustainably use the biological resources of the planet.
---