Raising the bar for off-grid solar deployment in Tanzania
By Sachi DeCou
Combine a solar panel, a charge controller and a battery and you have the basic building blocks of a solar generator complete with storage. For off-grid regions of the world this means access to distributed electricity production without waiting for the grid to arrive. Improvements in solar and metering technology and decreased costs have made distributed solar energy infrastructure feasible, and not wait forever to garner funding for grid expansion to increase electricity access.
Along with the improvements in solar technology comes the need to develop business, distribution and maintenance models that make that technology accessible to the communities who need it most. At Juabar, our focus is on providing solar electricity access for local communities while developing a base of local entrepreneurs in order to strengthen local economies. Like all businesses we have our successes and our failures.
Making pragmatic decisions in business can be a constant push and pull, where decisions must sometimes be made quickly and the process must yield results in order to propel the business forward. It is a constant juggling of priorities and a balance of needed and desired outcomes from an array of stakeholders.
In the fall of 2014 we were in the midst of rapid expansion. We were excited to grow to meet the demands of our expanding solar entrepreneur network and through them, to bring clean electricity services to new communities. We also needed to demonstrate to investors that we had a scalable solution to spur follow on funds. We were focused on a nodal model for expansion. We would find a key region where there was demand for as many as ten solar charging locations and where we could create a local network to bring down the cost of overhead. In this way we felt that we could expand to locations distant from our central office, while at the same time staying focused and maintaining operational efficiencies.
We had already started to work in the Morogoro region of Tanzania (200 km west of Dar es Salaam) and as we developed our expansion plan we had much interest from additional entrepreneurs there. Our agent had good local connections with the towns where we planned to expand and there was demonstrated need for charging services in the area. Key site assessments had been done and it seemed like a good opportunity for rapid deployment and immediate revenue generation. We knew there was demand and we felt compelled to expand quickly in order to meet the milestones set by investors.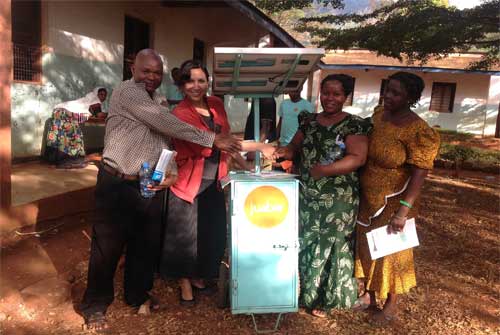 There were some early reservations. The area where seven new charging kiosk locations were planned was technically in the same region where we already worked, but required 7 to 15 hours of travel from the regional center where our agent was based. Still, site visits went well, business and technical trainings proceeded, down payments were deposited and the local entrepreneurs we brought on were ready to start offering charging services. Things got off to a good start, but after a few months we were having trouble with battery quality on a shipment that we had received from a third party supplier. This required sending technicians to assess the problem and then the coordination and transport of replacement batteries to the area. The faulty batteries and the time required to diagnose the problem and exchange them left our entrepreneurs without a working system for a period of time. On top of that the region was experiencing a time of prolonged flooding, drowning the agriculturally dependent community's ability to generate income from farming. Despite our desires to continue providing services in this far-reaching community we were compelled to move the kiosks to a closer region that was more cost effective to manage.
At Juabar we focus on providing solar electricity services as a for-profit social business. In this way we are able to maintain direct communication with the communities with whom we work and continue to support a process of mutual learning. We are designing in a complex environment, with variables outside of our control, from dramatic climate events to international currency fluctuation. We have learned to focus on simplicity within our own systems. We have switched to LiFePO4 batteries and pay-as-you-go metering. We continue to slice open our designs to examine them from the inside, from both a physical product design perspective as well as service design and business model. We engage in industry discussions to ensure battery recycling in the long term and analyze product life cycle impacts. It is always a balance. The product(s) need to be affordable and/or offered in a way that makes payments over time manageable.
The business model has to create value for everyone in the system. The product has to work within the context of local environmental constraints and the service has to be desirable and they both have to offer more value than the competition. When it comes to solar technology in off-grid areas, it is the light, the phone charger, and the radio, powered by solar, that are in demand. Solar electricity provides an exciting opportunity to meet the electricity demands of off-grid communities while building a distributed renewable energy future in underserved areas. My team would be happy to engage further with readers who have questions or feedback.
---
Sachi DeCou is design strategist, researcher and co-founder of Juabar Design.