Report of the Africa Section Business Meeting, held on August 5, 2015 during the 27th International Congress on Conservation Biology (ICCB), Montpellier, France
By Israel Borokini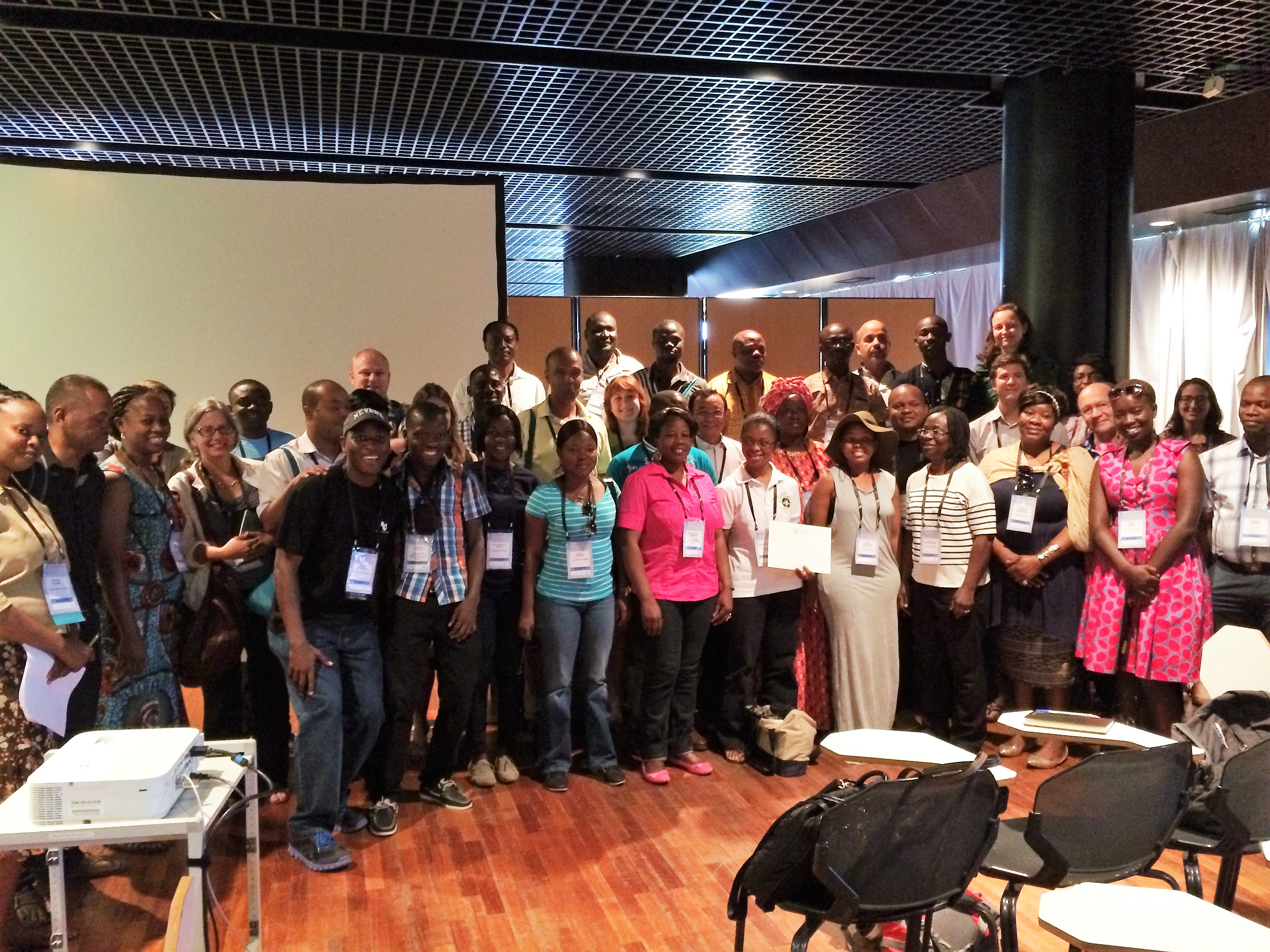 Africa section meeting attendees. Photo Credit: Israel Borokini.
The meeting started at 12:15 pm. About 60 people were in attendance from 18 countries including South Africa, Tanzania, Kenya, Nigeria, Ghana, Liberia, Benin Republic, Algeria, Morocco, Zimbabwe, Botswana, Rwanda, Ethiopia, Cameroon, Madagascar, Zambia, Uganda and Cote d'Ivoire.
Also present at the meeting were Jackie Grant, a member of SCB Board of Governors and Lauren Krizel, SCB Global Operations Manager.
Israel introduced all Section's Board of Directors, while Martin read the President's welcome address and also coordinated introduction of all members present. Lauren Krizel gave a short speech informing members of the recent changes in operations of SCB and more benefits available for the section and all SCB members at large.
Mrs. Olaleru explained the work of Young Women in Conservation Biology (YWCB) and their achievements to date. The YWCB award recipient, Julie Hanta Razafimanahaka from Madagascar was called forward and her citation was read. The formal award ceremony was jointly presented by Mrs. Olaleru, Lauren and Jackie.
Martin explained the Section's achievements in 2014, the highlights of this include the following:
1. Development of Strategic Plan for the Section
2. Resuscitation of the African Conservation Telegraph
3. Re-launch of the E-mentoring programme
4. Revitalization of the SCB Young Women Conservation Biologist (YWCB) group
5. Published a position paper on the effect of expanding industrial oil palm plantations on the tropical forests of Equatorial Guinea
Israel briefly described the Section's strategic plan for 2015 to 2017, emphasizing on the core objectives:
1. Accessibility of SCB Membership and its benefits to Africans
2. Conservation of biodiversity through linkages between conservation scientists and policy making organs
3. Development of conservation science at all levels of education, mentoring, training and to facilitate access to relevant data and information
4. Influencing conservation initiatives in Africa by applying current thinking and state of the art approaches
Q&A session
1. Edward Mwavu (Uganda) noted the importance of Social Sciences in conservation biology in Africa and that they should be reached out to join the society.
2. Professor Yaa Ntiamoa-Baidu (Ghana) encouraged SCB to disburse travel grant funds to recipients before the trip to assist them with financial situations rather than reimburse them later. Question was also asked on how to start a chapter in Ghana.
3. Dale Wright (South Africa) promised to work on starting a Chapter in South Africa
4. Dr. Erasmus Owusu (Ghana) enjoined SCB Africa section to ensure transparency in elections and increase flow of communication among members of SCB activities
5. Fidelis Atuo (Nigeria) encouraged the Section to have more mentors from among the crop of experts in Africa rather than from non-Africans, for the e-mentoring programme.
Lauren noted the problem of disbursing funds upfront to grant recipients but eventually could not make it to the congress and the effect of that on SCB operations and reporting. But she promised to ensure part disbursement would be done subsequently. Further, Israel promised to develop a pool of experienced African experts that can be contacted readily for the e-mentoring programme.
The meeting ended at 1:24 pm.
Follow-up report after the Business meeting
1. During the Africa section business meeting, members were encouraged to start chapters in their countries and they responded very well to this, as five countries registered to start new chapters in Africa – Ghana, South Africa, Kenya, Liberia and Madagascar. Members in neighborhood of South Africa could potentially join the South Africa chapter till they have enough members.
Excerpts from the SCB Global meeting
1. During the SCB General meeting, the issue of chapter independence and non-compliance with section supervision was raised and addressed. It was suggested that section bylaws can be modified to allow chapter Presidents directly involved in section administration, to increase flow of communication; while new framework is being developed to address other issues. It was also noted that SCB Global Chapter committee has liaison officer who communicates chapter activities to the sections and oversees their operations.
2. Dr. James Watson succeeded Professor Rodrigo Medellin as the SCB President; while Dr. Mike Mascia became SCB President-Elect. A new hierarchy was introduced – Vice President – and the three new VPs were introduced – Sarah Reed, Jessa Madosky and Jackie Grant.
3. One of the observed achievements in SCB was that more regional congresses were held in 2014 more than in years past.
4. Members were urged to get involved in SCB activities and leadership in their respective chapters and sections
5. SCB was noted to have a strong financial status, with revenue of $3,018,583 and expenses of $2,954,998.00; and net asset increased to $2,400,360.00.
6. Membership survey – a total of 2400 responses were received in which respondents noted that journal publication (21%) and networking (14%) were among the most important benefits of SCB; while SCB were urged to address dissatisfaction in communication (21%) and cost/no value for money (13%).
7. Members were encouraged to send high quality papers to SCB journals – Conservation Biology and Ecology Letters
8. Members were asked to submit nominations for plenary sessions at upcoming regional and international congresses
9. A new benefit was introduced to SCB – Graduate Research Awards for 10 recipients for $1000 each. Logistics for this was being prepared but proposals are due in October 1.
---
Israel Borokini is the information officer for the SCB Africa Section.