Teetering on the Brink: Zimbabwe's Black Rhinos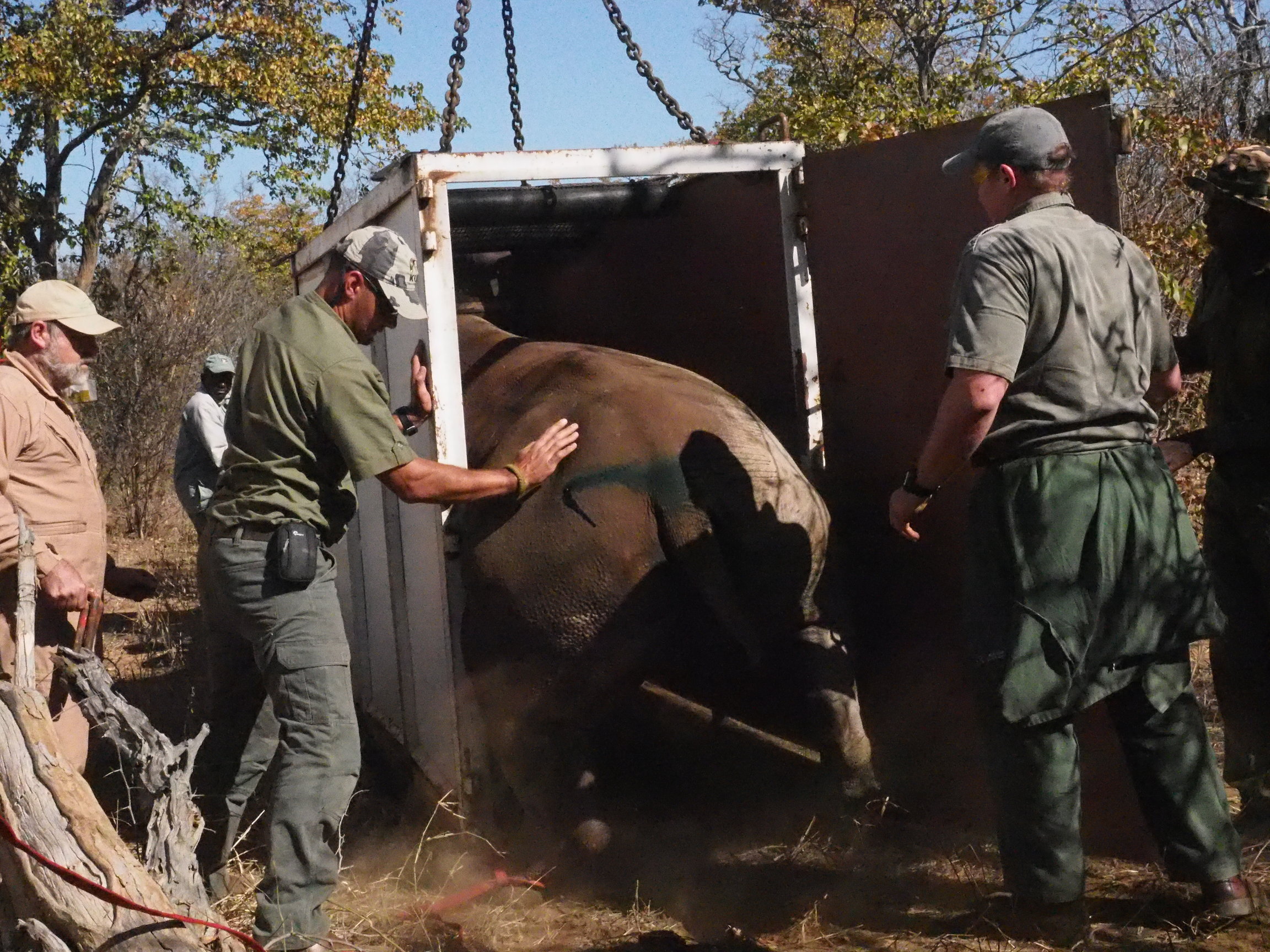 By Susie Ellis and Kelly Russo
Volume 13, Issue 2: December 2018
During the 20th century, rhinoceros across Africa were decimated by demand for rhino horn. The black rhino (Diceros bicornis) once ranged throughout the savannahs of sub-Saharan Africa, with historic estimates exceeding several hundred thousand animals. By 1970, about 65,000 remained. Ruthlessly hunted for their horns, rhino numbers dropped 96% by 1992, to fewer than 2,600 animals continent-wide. Between 1980 and 2008, they became extinct in 13 of more than 20 range countries.
In Zimbabwe, poaching left only 370 black rhinos by 1993. After intensive anti-poaching efforts commenced in 1996, populations began to recover, reaching 435 individuals. Black rhinos now number around 475 animals - a phenomenal recovery considering Zimbabwe's history of political and economic crisis. As Zimbabwe declined in the early 2000s, poaching was initially a matter of survival and subsistence. Later, however, poaching became a high-stakes, organized endeavor, implicating government officials, foreign workers and diplomats, and criminal networks. Soldiers hunted in national parks for meat rations; diplomats and criminals smuggled untold quantities of contraband through the country's porous borders. Most egregiously, tactics included shooting from government helicopters in private conservancies and poisoning waterholes and collecting horn from dead and dying rhinos days later. Rhinos, with their million-dollar horns, remain in high demand.
The International Rhino Foundation (IRF) was founded in 1991 by a group of dedicated people outraged by the black rhino killing taking place in Africa, particularly in Zimbabwe. IRF invested in anti-poaching activities in Zimbabwe; bolstered by the work of dedicated rhino conservationists on the ground, poaching levels dramatically declined and black rhino populations began to stabilize and eventually increase. In the years since, IRF's programs have expanded to Asia, including India and Indonesia, to include all five species of rhino.
IRF's longest-running Africa program focuses on rhino protection and monitoring through Zimbabwe's Lowveld Rhino Trust (LRT), led by Raoul du Toit. Zimbabwe holds the world's fourth largest black rhino population after South Africa, Namibia, and Kenya. The LRT, founded in 1991, safeguards wildlife on private and communal lands in Zimbabwe's southeast. The Lowveld was formerly degraded land, overgrazed by a century of high cattle densities and largely depauperate of wildlife. In the 1980s, Raoul and fellow visionaries initiated an amalgamation of privately-owned and communal lands into tracts large enough to host rhino populations. As a result of reinvigorated anti-poaching patrols, restoration and reintroductions of mammals, and cooperation between neighbors, the Lowveld Conservancies (Save Valley, Bubye Valley, and Malilangwe) came into existence. The program built up the black rhino population in that region from 4% of the national total in 1990 to 89% at the end of 2017 (about 8% of the continental total). Considerable credit is due to conservancy members and their staff, operating under difficult economic and political conditions, along with LRT's role in biological management. While unplanned occupancy that commenced during Zimbabwe's "fast-track" resettlement programme continues to destroy rhino habitat in Save Valley, the available range in Lowveld conservancies remains enough to carry more than twice the current populations of black and white rhino.
Sadly, both species continue to be targeted by poachers to feed the illegal wildlife trade. More than 750 rhinos have been poached in Zimbabwe since 2000; Bubye Valley Conservancy has experienced increased poaching pressure over the past few years.
The LRT's activities help maintain the growth of large populations of both species of rhinos, while also tackling immediate species conservation needs (monitoring, management, protection, and community engagement, strategic translocations, and support for anti-poaching, informer systems, legal actions against poachers, etc.). LRT staff also undertakes monitoring and management interventions (drug-dartings, translocations, veterinary treatments, etc.) for all rhinos in these areas. Maintaining an accurate picture of the rhino population is critical to identifying where problems occur and to guide appropriate responses.
The IRF prides itself on continuing to support this area's important rhino populations when many other donors have pulled out in the face of daunting socio-economic and political challenges.
Community Awareness
Conservation can't succeed without the benefit of local communities. For the past 15 years, the LRT has operated a Rhino Conservation Awareness Program in 145 primary schools within the Save and Bubye Valley Conservancies' buffer zones. Students look forward to the annual quiz competitions on rhino conservation. In return for a community's successfully conserving rhinos, each school receives supplies, including textbooks.
Southern Africa
Elsewhere in southern Africa, South Africa and Namibia bear the brunt of poaching pressure. Driven by ever-increasing demand from growing Asian markets (particularly in China and Vietnam), poachers kill three or more rhinos per day in South Africa alone. Poaching networks, mostly based in Mozambique and South Africa, are well-equipped, highly-organized, and dangerous – they use helicopters, machine guns, veterinary immobilization drugs, and other sophisticated methods to brutally kill rhinos.
By the end of 2017, at least 1,109 rhinos had been poached in Africa, down slightly from 1,165 in 2016. About two-thirds of the killing has taken place in Kruger National Park, which shares 221 porous miles of its 621-mile border with Mozambique. However, as Kruger as ramped up its security, poachers have turned to other targets within South Africa, such as KwaZulu Natal and Eastern Cape Provinces, as well as to Zimbabwe and Namibia.
Since 2011, through our OPERATION: Stop Poaching Now program, IRF has raised and awarded more than $1.2 million in grants to critical southern African reserves to strengthen security and anti-poaching efforts.
Hope for the Future
By bringing together experts in anti-poaching and law enforcement, habitat protection, population genetics, animal translocation, rhino breeding, and veterinary care we are creating a worldwide collaborative network - Team Rhino - with the knowledge and resources needed to safeguard these magnificent species.
This team couldn't achieve much without the belief that our work is making a difference. Despite challenges, we know that hard work, partnership, passion, and careful investment of precious resources will ensure that rhinos survive for future generations.