To Africa, With Love: Meet Dao Van Hoang
Dao Van Hoang is a wildlife artist based in Ho Chi Minh City. In 1979, Hoang left Vietnam at the behest of his mother and became a refugee in France. After 16 years of studies and working in Paris, Hoang returned to Vietnam to rediscover the natural heritage and wilderness of his birthplace. After working in advertising for many years, Hoang became a full time wildlife artist and his passion is to focus on the species of Southeast Asia which are not as well-known as the African and North American wildlife. We celebrate Hoang's art with the Prince Ruspoli's turaco and Grevy's zebra foal he specially painted for ACT. Thank you, Hoang, for your valuable time and beautiful paintings! ~ Ed. Pai
Pai: Tell us about growing up among wars in Vietnam?
Hoang: I am a 'war child' for sure. My parents were from Haiphong, North Vietnam, and settled in Saigon after the French war in 1954. My dad worked as a cook for a French family and mother had a small grocery shop like so many ladies even now do. Like all kids, I started scribbling stuff for an appreciative audience comprising of my parents and 5 elder sisters, and I guess I never grew up!
Pai: Did the end of the American war in 1975 bring glad tidings to your people?
Hoang: On the contrary, it was a dark phase in our history. I lost my dad when I was 12, and mother was our sole breadwinner as Vietnam entered into a war with Cambodia. In 1979, young men were drafted into the army and mother was like, "Nobody is taking my son away." So, I was 16 when she put me in a boat with one sister as she could not find funds for all of us to go.
Pai: Where were you going by sea?
Hoang: I did not have the foggiest. It was a small boat of 5 meters with 23 people packed like sardines in a tin. We were told that we would get to Thailand in 3 days. The very first night we were hit by a storm that set off giant waves and I clung on to dear life with the others. I prayed hard to return to the shore even it meant getting thrown into a jail for desertion. We came to know that our seamen knew nothing about navigating the ocean as they were river boat operators. Most of our food was lost as we drifted along, barely alive, and totally at sea. We met with other boats and they would give us some food but none wanted to take us on. After 10 days, we went mad with joy on sighting shore at a distance and 4 hours later we set foot on shimmering sands. It turned out to be the small island Serawan in Indonesia. The islanders were so kind and hospitable and I would like to visit with them again someday. The next day we were taken to a big refugee island Pulau Galang to a camp managed by the United Nations - Red Cross. After 45 days, and after a series of interviews by third countries, France selected my sister and me because I spoke a bit of French. We were put on a big ship to Jakarta and then flown to Paris from there. My mother wept with relief when she came to know I and my sister had survived.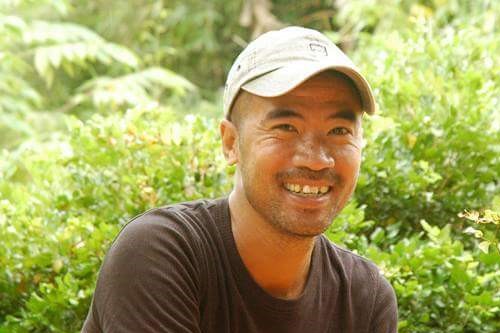 Pai: After your personal 'Life of Pi' moment, what did you do in France and how did it shape your destiny?
Hoang: My new lease of life started in Paris and I went back to school thanks to my sister who worked as a tailor and supported me. I was as good at French as the local boys and in '84 I enrolled at the University in computer science as it was trendy, but I failed at it. After three years of study and an equal period working with hardware for NCR, I realized my hands itched to wield the brush. I joined a Chinese printer to design restaurant menus and wedding cards and drew dragons, ornaments, couple kissing, chicken, beef, pork and what-have-you. After 10 years as refugee, I was given a French citizenship after which I had to serve a one-year draft with the Army at their military base in Germany. I was in Tubingen for a month and Reutlingen for 11 months in the Black Forest region. I painted my first mural for the Army – the Captain had a 3 x 3 meters wall on which I painted a battle scene for a month instead of mucking out firearms. After serving the army, I went back to the printer in Paris and shifted to an advertising agency 'Communider' and designed mailers for marketing. I was promoted as a graphic designer and worked 7 years in the job. I went to Vietnam in 1996 on a vacation and spent time with my mother.
Pai: What made you give up the good life in France and resettle in Vietnam?
Hoang: I rediscovered my country and wanted to partake in nation building and biodiversity conservation. I wanted to be with my aging mother in her evening years. My friends goaded me to find work in the country. So, I went and secured a position with Leo Burnett advertising agency based in Chicago as their art director in Vietnam. I was in charge of everything visual in their advertisements and one thing led to another and I was promoted as creative director. It was 10 years of demanding work with some diversion painting my second mural in the reception at Cat Tien National Park. I reconnected with nature and nature conservation through my friends Gert Polet and Ina Becker from Netherlands who worked for the WWF. They managed Cat Tien after WWF rediscovered by camera trap the long-thought extinct Javan rhino in 1989, but sadly lost forever in 2010.
Pai: How did you evolve into a wildlife artist?
Hoang: In 2006, I quit advertising and stayed home with mother. I did up an exhibition center for a wildlife rescue center in Cu Chi run by NGO Wildlife at Risk (WAR). I then went to the Primate Centre in Cuc Phuong at the invitation of Tilo Nadler and drew endangered primates to my heart's content. In 2014, the International Primatological Society (IPS) held their conference in Hanoi and they kindly agreed to my proposal to paint and display 22 canvases with acrylic paintings showing primates of Vietnam. I sold 16 paintings and donated some to IPS during a week of the conference and my work was well received. In 2015, the American Primatological Society (APS), allowed me showcase 25 most endangered primates of the world at their conference in Bend, Oregon. I sold half of them and I barely broke even as I paid for my travels, shipment and local expenses as well. In 2016, I displayed 19 paintings at the IPS-APS joint conference and sold a lot less and surprisingly a client from Singapore purchased many of them online and I shipped them back from the U.S.
Pai: What do you see doing five years from now?
Hoang: I aspire to be a wildlife artist dedicated to the fauna of Southeast Asia, with an emphasis on the unknown, unsung and unwept for species like the Owston's civet and Tonkin snub-nosed monkey in Vietnam. I did a series on 'small cats of Asia' and others are in the pipeline. The Tonkin monkey is my personal favorite – mysterious and hard to sight in the wild. It is on my bucket list of wildlife viewing in 2017.
Pai: What is your wish for African wildlife?
Hoang: I don't think they need another advocate as they are so well known. But, who would have thought giraffe would be endangered like the rhino, elephant and lion in Africa? So, folks keep doing your bit to promote conservation and love for wildlife in Africa. That's all you can do and all you need to do. http://www.daovanhoang.com/
---