#TuesdaysWithTeamcounterfactual
Announcing a new virtual seminar series on "Conservation Impact Evaluation and Implementation Science", hosted by Johanna Eklund and Paul Ferraro in coordination with the Impact Evaluation Working Group of the Society for Conservation Biology!
Register here and watch the past talks on our Vimeo channel.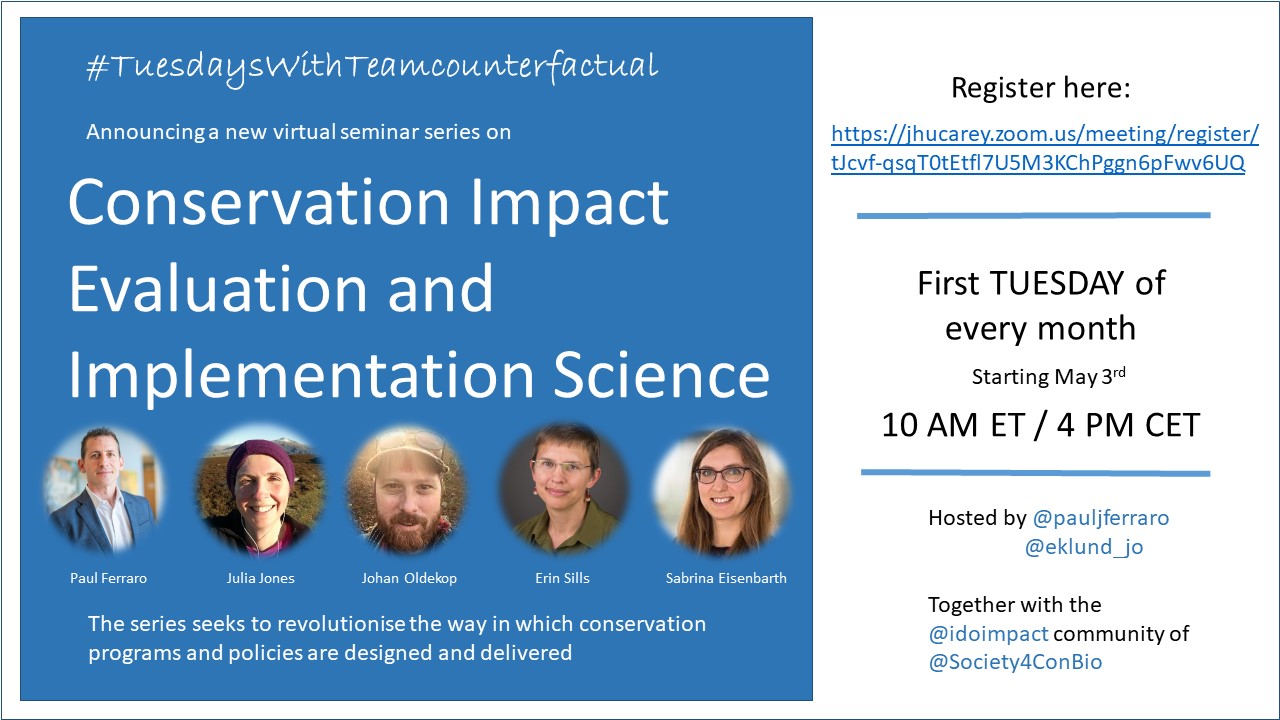 The series seeks to revolutionise the way in which conservation programs and policies are designed and delivered. The seminars are targeted at a broad audience - no previous experience necessary!
Dates: First Tuesday of every month
3 May: Paul J. Ferraro (Johns Hopkins University), The Past and Future of Impact Evaluations and Implementation Science in Conservation.
7 Jun: Julia P. G. Jones (Bangor University and University of Utrecht), Does conservation work, and how can we know?
July-August: summer break
6 Sept: Johan A. Oldekop (University of Manchester), Multiple Outcomes from Multiple policies: Insights on multidimensional sustainability from policy mixes.
4 Oct: Erin Sills (NC State), Synthetic Control Methods in Conservation Science.
1 Nov: Sabrina Eisenbarth (University of Exeter), Harmonized Implementation Experiments in Conservation (metaketas).
7 Feb: Jennifer Alix-Garcia (Oregon State University), Measurement error in satellite data and its effects on impact evaluations in conservation
7 March: Moderated Panel from Academia and Practice: "Counterfactual methods and their use in the voluntary forest carbon market: past, present and future" Thales West (Vrije Universiteit Amsterdam), Julianne (Julie) Baroody (Verra), Thomas Swinfield (University of Cambridge and 4C), and Carlos Silva (Pachama).
4 April: Jennifer Zavaleta Cheek (South Dakota State University) and Gabby Salazar (University of Florida), Theory-based Approaches to Impact Evaluation
2 May: Luke Sanford (Yale School of the Environment), Machine Learning for Impact Evaluation: Environmental effects of land tenure formalization
5 Sept: Robert Heilmayr (UC Santa Barbara), Conservation Impact Evaluation Using Remotely Sensed Data
3 Oct: Michael Mascia (Duke University), Solving the Mystery of Marine Protected Areas performance: Long-term monitoring systems and impact evaluation for evidence-based policymaking
The virtual seminar series is being held on Zoom. Please register following the instructions below, and we'll be able to keep you updated on our #TuesdaysWithTeamcounterfactual series and send you instructions and reminders for each seminar.
Please note: you only need to register once, and we will keep you updated about all the seminars in the series. Once you have registered, we'll send out the Zoom login details and a calendar invite, plus monthly reminders. You can also catch up on all the previous recordings via Society for Conservation Biology's Vimeo channel for the #TuesdaysWithTeamcounterfactual series.