A Community of Practice
The Society is comprised of 7 regional Sections, 36 localized Chapters, 7 topical Working Groups and more than 4,000 members. Each of these vitally important groups has its own Board of Directors who work to forward the SCB Mission, expand their reach, and maximize their impacts, both individually and collectively.
---
Regional Sections
SCB has 7 regional Sections, one for the marine realm and one each for Africa, Asia, Australia, Europe, North America, Oceania (New Zealand and Pacific Islands), and Latin America and the Caribbean.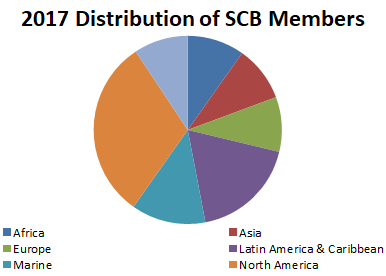 SCB members are allowed to join up to two Sections and each Section has representation on the SCB Board of Governors.
Individually, each Section strives to empower their members to address key conservation issues in their region. Together, Sections collaborate on global issues and strive to advance SCB's mission and goals.
For more information, click here to explore each of our Sections.
---
Chapters
SCB has 36 Chapters located across the globe; some Chapters focus on a single city, county, or university campus, while others cover broader geographic areas from state to national levels. Chapters provide an opportunity for individuals to become involved in conservation action, such as habitat restoration, professional and early career mentoring, and beach cleanups, at the local level.
By joining a nearby Chapter, you can engage in on-the-ground conservation work, public policy, education from grade school to college, public outreach, and many other important and fun activities.
For more information, click here to explore Chapters.
---
Working Groups
SCB has 7 approved Working Groups that focus on a topical area relevant to the mission and goals of SCB. Their efforts are concentrated on specific and important areas of conservation.
Often times many organizations and/or individuals focus on similar topics but their efforts are unconnected, duplicative, or uneconomical. SCB's vast professional network enables individuals such as scientists, conservation practitioners, academics, social scientists, entrepreneurs, etc. who have differing but equally important skill sets and experiences to come together to work on the topic.
Working on a topic from a global level transcends borders, increases efficiencies and amplifies impacts.
For more information, click here to explore each of our Working Groups.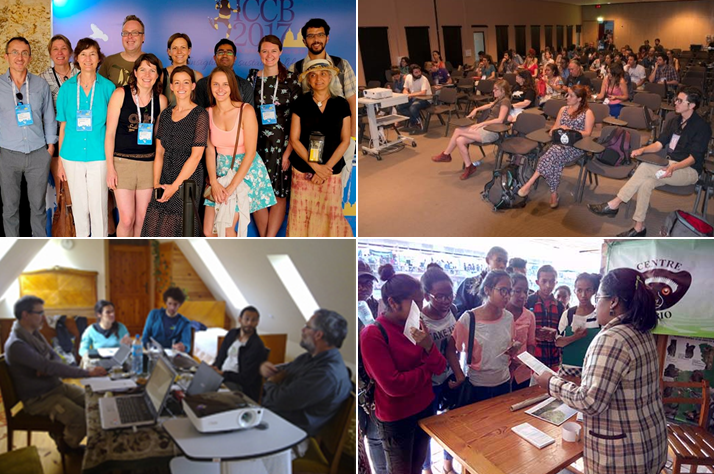 Top left: Members of SCB Freshwater Working Group at ICCB 2017; top right: LACA Members Meeting at ICCB 2015; bottom left: SCB Europe Section Policy Committee annual meeting in 2014; bottom right: presentation at SCB Madagascar Chapter meeting in 2016