ACT - Volume 9 Issue 1
<<<
Back to Table of Contents
---
Mentoring Young Conservation Practitioners in Africa
By Stephen Awoyemi

We think fondly of mentors who held our hands early-on in our careers and taught us all they knew. The Society for Conservation Biology (SCB) has a strong mentor-mentee focus, and is the conservation fraternity's well known forum. The SCB Africa Section Communications/E-mentoring Program has paired outstanding mentees from Africa with exceptional mentors from the world over since 2007. A total of 48 mentees and mentors have benefitted from the program till date.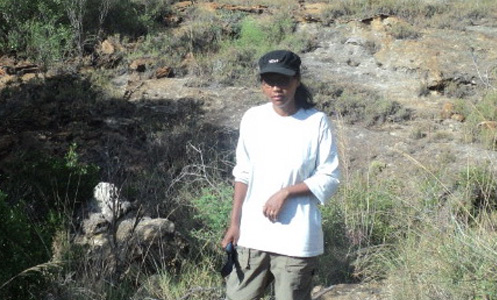 Ranivoarivelo Soazara, a mentee in the Africa Section's E-mentoring program.
In this year's cohort, 15 mentors and mentees were selected on October 15, 2014. Mentees are from 10 countries across Africa, including Liberia, Cameroun, Benin, Nigeria, South Africa, Egypt, Madagascar, Ghana, Botswana and Democratic Republic of Congo, were paired with mentors from countries in Europe, North America, Asia and Africa. In addition to their academic and professional standing, the program stipulated institutional affiliation or ongoing research projects in Africa, for the mentors. Mentees had to be students or young professionals in need of guidance in writing and research skills. They had to be of African origin, based anywhere in the world but with topics directly applicable to current African conservation issues. Mentors were matched with mentees based on their research interests and preferences as indicated in their bios and statements of purpose.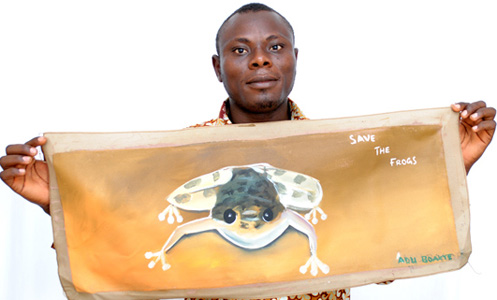 Gilbert Adum, a mentor to Ranivoarivelo Soazara. Photo credit: Save the Frogs
Ranivoarivelo Soazara, a young lady who founded EDENA, an NGO espousing the cause of youth and women empowerment for conservation in Madagascar, was paired with Ghana's well known herpetologist Gilbert Adum. Gilbert is Executive Director and Chief Ecologist of SAVE THE FROGS, an NGO he co-founded in 2011. Rani says, "I and my team are investigating threats to endemic amphibians of Isalo, such as rainbow frogs and blue-legged mantilla, from the chytrid fungus disease. I seek a mentor to advise me on writing scientific proposal with good methodology and who can help me to publish our data". We believe Gilbert is equal to this task.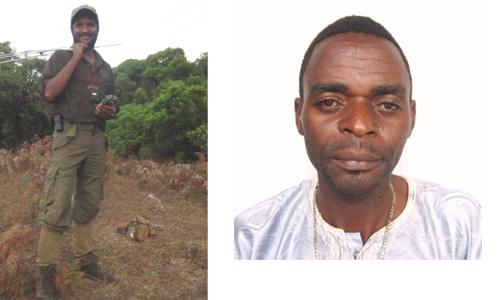 Devcharan Jathanna (left) mentors Mbeng Donatus (right), a biology teacher and Ph.D. student in Cameroon.
Another example is a match between Mbeng Donatus, a biology teacher from Cameroon, enrolled in a Ph.D. program in conservation biology at the University of Yaounde, and Devcharan 'Dev'Jathanna, a Senior Research Associate at the Centre for Wildlife Studies (CWS), Bangalore, India. Mbeng and Dev share similar interests in conservation biology and the selection committee deemed it a good fit.
In conclusion, this E-mentoring program is all about 'virtual' bridging of talent, knowledge, skills sets and excellence wherever they are in the world with those who need them in sub-Saharan Africa. The SCB Africa Section congratulates the newly selected cohort and wishes them a fruitful association.
---
Stephen Awoyemi is the President of the Africa Section of SCB.