ACT - Volume 9 Issue 1
<<<
Back to Table of Contents
By Patrick Bergin

Ilima Primary School sits in the middle of the forest in DRC's low-lying central Congo Basin. The African Wildlife Foundation (AWF) has been working with a consortium of partners in this forested landscape to increase livelihood opportunities, reduce the rate of forest degradation and biodiversity loss, and protect the endangered bonobo and other vulnerable species. The idea of conservation schools in Africa is an offshoot of the AWF's work with rural communities barely able to make a living out of subsistence farming. Due to the remoteness, their children also have little chance of attending a good school.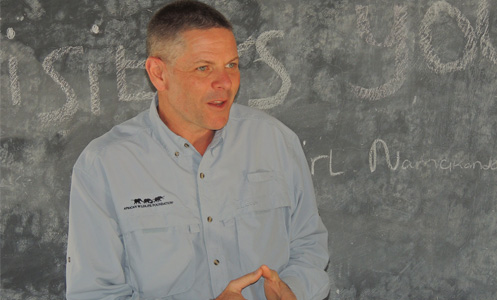 Patrick Bergin speaks at Ilima Primary School in the Democratic Republic of the Congo. Photo credit: AWF

A long-term investment in Africa's human capital is a long-term investment in the continent's wildlife, which is why education and capacity building have been integral to our conservation efforts from the beginning. One of AWF's very first projects was to help establish in 1962, the College of African Wildlife Management at Mweka, Tanzania, which has trained more than 5,000 wildlife managers from more than 52 countries worldwide till date. In 1996, the Charlotte Conservation Fellows program was launched, and it has helped more than 50 African nationals pursue master's degree or doctoral research in a conservation-related field at universities around the world. However, higher learning is not the only educational investment AWF has made.
Equally important to us are the years students spend in primary school. These communities are often our most important—sometimes only—partners on the ground, working with us to conserve wildlife and habitat. What better way to reward their conservation commitment than to create the conditions needed, using the resources and expertise at our disposal, to help their communities and children thrive? Only education can help to disrupt the cycle of poverty and alleviate the resulting environmental degradation that goes with it.
AWF formally launched a conservation schools program last year and committed to building 15 unique primary schools over a period of 10 years in key landscapes we've identified as important for conservation. The first of these schools opened its doors this past September in northern Democratic Republic of Congo (DRC), in the village of Ilima. The new school, like the village itself, sits between two land uses—untouched forest and an area that were previously cleared by people for agriculture—and by its location helps to foster a better understanding about the need for conservation.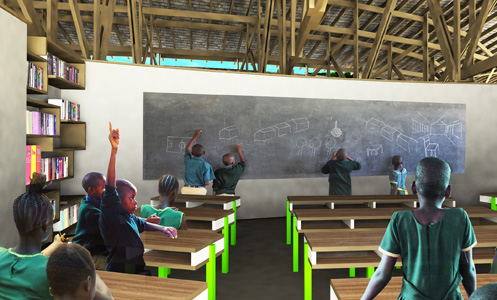 Children in class at Ilima PrimarySchool.
The Ilima School is more than a building in the forest. It is both a center of learning and a much-needed community center. Similar to how AWF has worked with the community in the past, our architecture partner, MASS Design Group, engaged residents from the early days of the design process. Local community members were trained in carpentry, masonry and other skills, and were employed throughout the construction process. Due to the remote location of the school, construction materials were locally sourced, making it easier for the community to make repairs and maintain it over time.
The backs of the six new classrooms open to the landscape and the mud brick walls and suspended shingled roof helped to ventilate and moderate temperatures inside the school. Landscaping around the school will include nature discovery trails, designated play areas and conservation signage connecting students back to their surrounding forest. Ilima Primary School previously had 230 students enrolled but 323 students are registered for the 2014-2015 school year—a 40 % increase in enrollment. Construction has now begun on on-site teacher housing, ensuring teachers have dignified accommodation and are retained over time. They, in turn, will receive training on incorporating conservation topics into their lessons.
In the short term, conservation commitments made by the community have subsidized the building of this school, which we hope demonstrates to the Ilima community not only our long-term investment in them but also the idea that conservation can in fact deliver benefits and basic services. In the long term, our early childhood investment will give Ilima's children the opportunity their parents never had—a chance to escape the bondage of poverty and seek out alternative livelihoods that no longer rely on exploitation of the forest and its wild inhabitants.
---
Patrick Bergin is the CEO of African Wildlife Foundation.