Asia Section Board of Directors
The Asia Section of the Society for Conservation Biology has an international following of members that support conservation in the Asian Region. The Board of Directors is an elected body that facilitates the goals and activities of the Section.
Current Members

Antony J. Lynam, PhD
President, SCB Asia Section
Conservationist, Wildlife Conservation Society, Center for Global Conservation
Term End Date: 2020

Tony Lynam is President of the SCB Asia Section and was first member of SCB in 1987. He completed a Ph.D at UC San Diego. Tony has worked for the Wildlife Conservation Society for 21 years. Based in Bangkok, Thailand, he works regionally in Asia and East Africa to train government and local NGO staffand help make protected areas more effective.
Member: IUCN Cat Specialist Group (2017-2020)
Website | LinkedIn |Reviews |Blog | Publications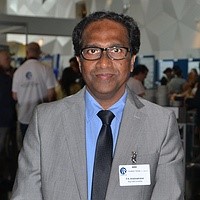 Periyadan K. Krishnakumar, PhD
Vice President, SCB Asia Section
Research Scientist-1/Professor, King Fahd University of Petroleum and Minerals, Dhahran, Saudi Arabia
Term End Date: 2021

Krishna is the Vice-President of the SCB Asia Section since August 2018. He completed a Ph.D (Marine Biology) at Cochin University of Science and Technology, India and Post-doc from NWFSC/NOAA, Seattle, USA. He has more than 25 years research experience in marine science, with a focus on marine conservation. Previously he worked for the Central Marine Fisheries Research Institute in Kochi, India. Currently works in the Center for Environment and Water, Research Institute, KFUPM.
LinkedIn |Reviews |Twitter| Publications
Ahimsa Campos-Arceiz, Past President
University of Nottingham, Malaysia Campus
Malaysia

Jeffrey A. McNeely, Policy Liaison,
Independent Consultant,
Thailand
Term End Date: 2020

Jeff has contributed to conservation in Asia since 1970. He spent 12 years between Thailand, Indonesia, and Nepal before going to IUCN in Switzerland and retired as Chief Scientist after 3 decades. He has written/edited almost 50 books and over 350 scientific papers and book chapters. He returned to Thailand in 2012 and worked with Asian Development Bank on the Greater Mekong Subregion's protected areas and serves as the policy advisor to Thailand's Department of National Parks, Wildlife and Plant Conservation.

Kausik Banerjee, PhD
Training & Education Coordinator
Term End Date: 2021
Trishna Dutta, PhD
Awards Liaison
Term End Date: 2021
---
Future Members
If you are interested in being a member of the Asia Board you must be a member of SCB and a member of the Section. Generally 2 to 4 board members are elected annually. The Call for Nominations goes out in September or October and the election runs in October or November. Each year Section members receive an email about the open positions and the start of the election process. For more information about getting involved with this board, please email the Asia Section Board.
Chief Financial Officer, SCB Asia Section