Society for Conservation Biology Marine Section
Conservation Research Small Grants Program
The SCB Marine section is pleased to fund the following Conservation Research Small Grants recipients in 2018. For more information on the small grants program, please see the Small Grants page.
Mariana Chavez-Andrade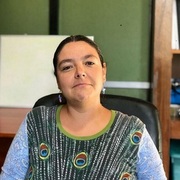 Project Title: Biodiversity and habitat use of marine mammals in the Central Coast of Oaxaca, Mexico
Project Country: Mexico
Bio: Mariana has a B.S. degree in biology granted by Universidad Autónoma de Aguascalientes, México. In 2006, she obtained her M.S. degree in Management of Marine Resources. Her research was focused on the habitat characterization of blue, humpback, Bryde, fin and sperm whales in the Gulf of California. She was a volunteer for two months at the dolphin captivity center in La Paz, B.C.S. México in 2001. She received a scholarship to study at the School for Field Studies in Mexico, where she participated in the ecology studies of gray whales and sea turtles. She also had the opportunity to participate in short marine mammal surveys in Bahía de La Paz in 2004-2006 and a larger survey along the Gulf of California. Presently, Mariana is a Ph. D. Student in Oaxaca, Mexico. She is studying the biodiversity and ecology of cetaceans along the Oaxaca central coast. Her research is focused on environmental variables determining the distribution and abundance of cetaceans. She is using acoustic techniques to detect cetacean species.
Cleto Nanola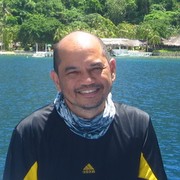 Project Title: Philippines
Project Country: Macro-invertebrate assessment of rocky intertidal areas in Samal Island, Davao Gulf (MARINA)
Bio: Known by many as "Ting", his passion for marine science started in 1986, when he served as research assistant at the Bolinao Marine Laboratory of the Marine Science Institute of the University of the Philippines Diliman. He currently works as full-time faculty at the University of the Philippines Mindanao in Davao City. Although his main interest concerns the biology, ecology, biodiversity, and biogeography of reef fishes in the Philippines, he is also involved in studies of the diversity of molluscs in the intertidal region in Davao Gulf. His vision is to expose students to marine life to foster appreciation of the beauty of nature, particularly in a country that is known for its high diversity of marine life.
Ursla Benedite Koumbo Tagagoum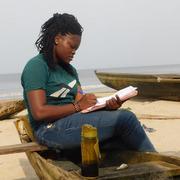 Project Title: Sea turtles conservation: increased conservation efforts through education and capacity building for nesting beaches monitoring and bycatch reporting in southern coast of Cameroon
Project Country: Cameroon
Bio: Ursla is a former graduate from the University of Dschang, Cameroon where she completed her Master Degree in Applied Ecology and Wildlife Management. Currently, Ursla is intern Ecologist at Cameroon Herpetology - Conservation Biology Foundation (CAMHERP- CBF), a non profit organization dedicated to amphibian and reptile conservation. In 2016, she initiated her work on marine turtles in South Cameroon, where she assessed local perceptions on sea turtle conservation. She also established a network of fishermen to document bycatch, and she conducted community outreach campaign to involve local fishermen in sea turtle conservation. Ursla is currently conducting beach monitoring to protect nesting female turtles and eggs. She is planning community awareness with children to promote grassroots conservation. Ursla is looking forward to reduce bycatch in South Cameroon and build an environment where local people live in good harmony with the marine resources.
Margaret Awuor Owuor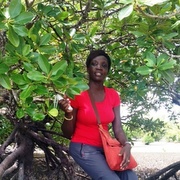 Project Title: Integrated assessment of ecosystem services in a marine protected area: the case of Malindi and Watamu Marine Park and Reserves
Project Country: Kenya
Bio: Margaret is a dedicated scholar and environment scientist currently an Assistant Lecturer in the School of Water Resources Science and Technology at the South Eastern Kenya University, Kitui, Kenya. A Ph.D. recipient of the University of Cadiz, Spain, she works on adopting the ecosystem services approach to the management of aquatic ecosystem, especially the mangroves in Kenya. In 2015, her work on mangroves in the Watamu Marine Reserve won a World Wildlife Fund Fellowship. She has also participated in projects organized by the Tropical Biology Association, Cambridge University, UK and has volunteered for a Darwin Initiative project on biodiversity conservation of Lake Bogoria. She is one of the founders of the Tropical Biology Association Africa Alumni Group that organised the maiden students' conference in conservation biology in Africa. She has just been elected as the Education and Science of Africa Section of the Society for Conservation Biology and has received numerous awards, prizes and mentions at important professional meetings.
Zach Boakes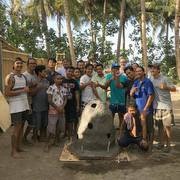 Project Title: North Bali Reef Conservation
Project Country: Indonesia
Bio: Zach is co-founder and international coordinator at North Bali Reef Conservation. After visiting North Bali in 2016, Zach became aware of the problems unsustainable fishing and plastic pollution were causing in Bali. He identified that something needed to be done to protect the marine ecosystems around Tianyar and consequently co-founded the North Bali Reef Conservation Project alongside his Environmental Science degree in the UK. His current role involves coordinating new volunteers into the project. He is also currently undertaking research to assess how artificial reef habitat enhancement improves marine biodiversity along the North Bali coastline.
Fernando Lopes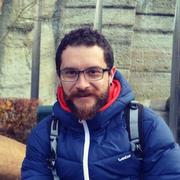 Project Title: First data on population genetics of sperm whale (Physeter macrocephalus) in the southwestern Atlantic Ocean
Project Country: Brazil
Bio: Fernando is a PhD candidate at Pontificia Universidade Catolica do Rio Grande do Sul (PUCRS) and is member of the research groups "Evolutionary and Molecular Ecology" of this university and "Mammal Ecology and Conservation" at Universidade do Vale do Rio dos Sinos (UNISINOS). He has a bachelor's degree in Biology (UNISINOS) and a master's degree in Zoology (PUCRS). Fernando has studied the evolutionary history (phylogeography) of marine mammals and has also worked with conservation genetics and genomics of different species of cetaceans, fur seals and sea lions.
Arushi Dutt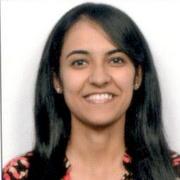 Project Title: A digital documentation on marine conservation and its impact on locals around Gulf of Mannar Biosphere Reserve
Project Country: India
Bio: Arushi comes from a background of journalism and communications. Eager to blend this interest with development work, she moved from three years of working in India's media hub Mumbai to working for a local NGO based in Chennai. For the past year, Arushi has been working on digital content and documentation on issues surrounding conservation and biodiversity. She is writing, directing and producing a docu-series about marine conservation in the Gulf of Mannar and its impact on the locals. Fishing being one of the major livelihoods for locals here continues to pose as one of the existing threats to the islands that are otherwise considered as the country's richest marine biodiversity hotspots. She is specifically looking at the involvement of the wives of fishermen and how they have been empowered with alternative livelihoods to reduce pressures on the marine ecosystem. Having experienced and grown up in the island life of Hawaii, this is a cause that Arushi naturally feels passionate towards. She hopes that her visual series will be a small step towards making a difference.
Andrea Dawn Phillott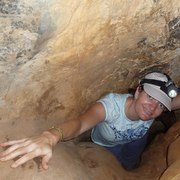 Project Title: Sea turtle hatchery management practices in Gujarat and Maharashtra, India
Project Country: India
Bio: Andrea became engaged with sea turtle research and conservation as an undergraduate student, and then completed her PhD on fungal invasion of sea turtle nests in eastern Australia in 2002. She has since worked as an academic in Australia, Bangladesh and India, and is a Regional Vice-Chair for the Middle East and South Asia in the IUCN SSC Marine Turtle Specialist Group, a Scientific Advisor to the IOSEA Northern Indian Ocean Marine Turtle Taskforce, on the Board of Directors of the International Sea Turtle Society, and editor of the Indian Ocean Turtle Newsletter. Her recent research focuses on factors influencing sea turtle embryonic development and hatchling fitness and dispersal, sea turtle hatchery management practices, and local fisher interactions with sea turtles and dugong. Her small marine grant from SCB will be used to further investigate sea turtle hatchery management practices in the states of Gujarat and Maharashtra, India, where approximately 50% of the hatcheries operating in India are located.
T.E. Angela Quiros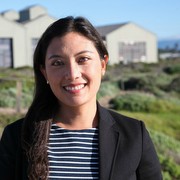 Project Title: Coral reef education and outreach in the Verde Island Passage, Philippines
Project Country: Philippines
Bio: T. E. grew up in the Philippines, where most people live along the coast and many derive their livelihoods from the sea. Given the importance of healthy nearshore marine environments in the Philippines, many coastal communities there have established local marine protected areas (MPAs). Though well intentioned, these natural areas targeted for protection are vulnerable to human activities on adjacent land. Urbanization, deforestation and farming contribute to coastal runoff of sediments, nutrients and pollution. More effective coastal MPAs may require ways to mitigate land-based activities. With a background in terrestrial environmental management, T.E. is seeking ways to design more effective MPAs, ones that consider more holistic approaches to integrating marine and coastal management.
Jenny Carolina Rodriquez Villalobos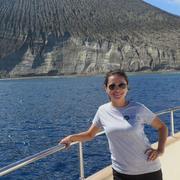 Project Title: Bringing science to people: involvement of local community to coral reef conservation
Project Country: Mexico
Bio: Jenny Carolina is a Colombian marine biologist who is post-doctoral research fellow in the Autonomous University of Baja California Sur, Mexico. A specialist in diseases of the main reef building species in the Tropical eastern Pacific, she is focused on describing the pathogenesis of Pocilloporas´ white syndrome and the consequences of this disease to the ecosystem. She is founder of a volunteer network (www.submarinformantes.org) that gathers information about the health status of coral and other reef organisms. Recognizing the importance of education and training on the identification and report of unhealthy conditions on animals, she currently works on a project that aims to build community faculty for coral reef monitoring in the Sea of Cortez. The project focus is on reefs near La Paz, in order to have a better management and conservation of this species and to increase the spatial and temporal scales of surveillance of the condition of the ecosystem. In her spare time, Jenny enjoys dancing and cooking for family and friends.
Leonardo Ariel Venerus
Project Title: Fishing for useful data in purposeless archives: the potential benefits of digging into the history of the recreational fishing tournaments in Argentina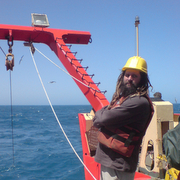 Project Country: Argentina
Bio: Leo is a researcher at CESIMAR (CCT CONICET - CENPAT), Puerto Madryn, Chubut, Argentina. The general objective of his work is to develop alternatives to monitor the coastal rocky reef system and to evaluate management options for the fish populations that inhabit them. His project deals with the monitoring of fishing effort and catches in angling tournaments carried out along the coast of Buenos Aires province, some of which have more than 20 years of history. One of the main outcomes of the project, beyond the evaluation of trends in the number, species composition and size of the catch, will be establishing a monitoring protocol that will make those data useful for conservation purposes. Besides his professional interests as a biologist, Leo enjoys family life, soccer and playing the bass in a hardcore-punk band.
Gustavo Castellanos-Galindo
Project Title: Pacific Goliath Grouper conservation in Panama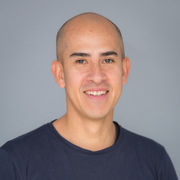 Project Country: Panama
Bio: Gustavo is a postdoctoral research fellow at the Leibniz Centre for Tropical Marine Research in Bremen, Germany. His research interests include the biology and ecology of tropical fishes, with an emphasis on those inhabiting shallow coastal nursery habitats (e.g., mangroves). Gustavo has carried out research in different countries of Latin America, including Brazil, Panama, Peru and Colombia. In recent years, Gustavo has been widening the scope of his research to include topics of ecosystems ecology with particular reference to mangrove ecosystems. Gustavo is a biologist with a Bachelor degree from Universidad del Valle in Cali, Colombia and a Master and PhD degrees from the Bremen University in Bremen, Germany. He has been a consultant for WWF Colombia since 2008 working on different projects related to the conservation and sustainable management of natural resources in the Colombian Pacific coast. Gustavo is currently a member of the IUCN Groupers and Wrasses specialist group.
Shaili Johri
Project Title: Molecular identification of elasmobranchs from landing sites in India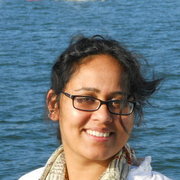 Project Country: India
Bio: Shaili obtained her Ph.D in Human genetics from the University of Utah, and brings her expertise in molecular genetics and molecular biology to the Wasser lab. She is currently developing a molecular method for reliable predator and prey species identification from scat. She will use this method to determine changes in the ecosystem due to the return of wolves, as apex predators, in North East Washington. She is also interested in developing the gut microbiome as a metric to determine the health of an ecosystem and any disturbances in an ecosystem due to habitat modification. Shaili is also working to develop methods for toxin detection/identification and gene expression analyses on killer whale scats. She will use these metrics to study killer whale health with respect to environmental pollutants in the Salish Sea.
Juan Carlos Villaseñor-Derbez
Project Title: Natural history of the giant sea bass Stereolepis gigas in Mexican waters
Project Country: Mexico
Bio: Juan Carlos graduated from the Marine Sciences School (UABC, Mexico) with a B.Sc. in Oceanography. He then worked for the Mexican NGO Comunidad y Biodiversidad (COBI), where he worked closely with fishing communities in Mexico to promote community-based sustainable fisheries and marine conservation. He then obtained a Master of Environmental Science and Management specializing in Coastal Marine Resources Management at the University of California, Santa Barbara. His Masters project focused on developing an app that allows fishers, managers, and academics evaluate marine reserves using standardized methodologies. He is now a Ph.D. student and Latin American Fisheries Fellow at UC Santa Barbara, under Dr. Steve Gaines and Dr. Chris Costello. Juan Carlos performs research that broadens interdisciplinary knowledge of fisheries management, marine ecology, and human interactions with the environment. His broader research goal is to combine ecological data with economic instruments through data science to understand how best to design and manage marine reserves under current and future socioeconomic and environmental conditions.