About YWCB
The YWCBC was established in 2005 by the SCB Africa Section based on an urgent need to fill the gap created by lack of adequate women professionals in the field of conservation science in Africa. It was further mandated to act as a platform for the young African conservation biologist (albeit with a major emphasis on women), generating incentives and mentorship to secure a life long career for her.
The following individuals contribute to the operation and work of YWCB: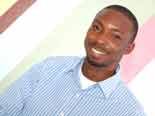 Stephen Awoyemi
Project Development Officer

My interests in environmental conservation stem from a course sponsored by the Tropical Biology Association set in the East Usambara Mountains Tanzania and held in 2002. The exposure to current topics in tropical ecology and conservation, knowledge of the precarious situation of biodiversity, intimacy with nature, a feel of real life issues pertaining to conservation, intercultural exchange and the prestige of a noble cause were all pivotal in causing me to make a personal commitment to conservation biology.

Working with SCB has had the greatest impact in my life as an aspiring professional. I have worked as a volunteer in several capacities since 2003 with SCB and the Tropical Conservancy. In the process I have developed strong leadership qualities and realized a platform for actualizing my life goal: to serve humanity on a global scale; with my identity, unique contribution capacity and opportunities. I believe strongly in women empowerment and am a product of their empathy, connection, benevolence and mentorship in my growth as an individual and aspiring professional.

Keywords/ professional interest: Tropical ecology and conservation, environment
African Country/Area of Interest: The entire continent!
Home Country: Nigeria

Telephone: +234-8028928139
Email: awoyemi@tc-biodiversity.org
Website: www.tc-biodiversity.org
---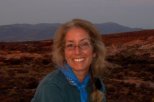 Phoebe Barnard
Member at Large (Founding Chair)
Phoebe is one of the "mother hens" and a former chair of the YWCB, still shepherding the group when she can. Although trained as a behavioral/evolutionary ecologist working on birds, much of her career has been in conservation biology, policy and strategic planning. She is a senior scientist in the Global Change & Biodiversity Programme at the South African National Biodiversity Institute, working on the vulnerability and adaptation of African birds and other animals to environmental change. Before this, Phoebe founded and ran the Namibian National Biodiversity and Climate Change programmes, and was scientific coordinator for the Global Invasive Species Programme. Her interests include the roles of human behavioural change, scientific networks, long-term environmental observatories, and young scientists in conservation biology.
Keywords/Professional Interest: Biodiversity, environmental change, birds, climate change
African Country/Area of Interest: Continent-wide, especially Namibia and South Africa
Home Country: Namibia and South Africa
Email: barnard@sanbi.org
Website: Percy Fitzpatrick Institute and SANBI
---

Babalola Folaranmi Dapo
Membership Coordinator

Having a background of Forest Resources Management, Fola's zeal for conservation was crystallized after attending the field course of Tropical Biology Association (TBA) at Uganda in 2003. He is an amiable person with great passion to foster bilateral sharing and exchange of ideas, experiences and knowledge with like-minded biologists around the world. This prompts his desire – without gender barrier - to be part of the pioneer Executives of YWCB in 2004.

Fola is currently undergoing his Ph.D. programme at the University of Ibadan, Nigeria. Funded by the African Forestry Research Network (AFORNET), he has completed his data collection and writing his thesis on a project titled "Socio-economic potential of Non-timber Forest Products in Southwestern Nigeria ." He is a recipient of various scholarships, fellowships and research grants, some of which include Postgraduate Fellowship of International Tropical Timber Organization (ITTO), Japan; African Network for Agroforestry Education (ANAFE), Kenya; ZARD Scholarship for the Best M. Sc. Student, Nigeria; Earthwatch African Fellowship to attend restoration of Kenya mangrove project, Gazi bay; and European Community, British Ecological Society & BAT Biodiversity Partnership Scholarship. He is currently one of the Africa Ambassadors for SCB's Social Science Working Group (SSWG) under the Christiansen Fund.

Although still in search of lecturing appointment, Fola is currently a research assistant and managing editor of a journal at the University of Ibadan, Nigeria. He has published 12 articles in peer reviewed Scientific Journals and Proceedings; among other articles in press and under review. He serves as in more than over 10 international and local conservation organizations and engages in various voluntary conservation activities. His hobbies are bird watching and mentoring of up-coming conservationists.

Specialisation: Sustainable forest management and restoration; non-timber forest products; agroforestry; forest economics and policy; biodiversity conservation; forest inventory and mensuration.

African Country/Area of Interest: Mostly East Africa; Cameroon
Home Country: Nigeria

Email: folababs2000@yahoo.com
Telephone: +234-8025487802
---

Alice Hurlbatt
Member at Large

A born and bred Zimbabwean, Alice has a Bachelor of Science in Zoology from the University of Western Australia, and Honours in Marine Science from James Cook University, Queensland, Australia. From volunteering on various projects including dolphin surveys in far north Queensland, sea turtle nesting projects off the northeast coast of Australia and sea turtle foraging projects in Uruguay, Alice's love of the marine environment led her to work with the Western Rock Lobster Council, an association of rock lobster fishermen in Western Australia. With a strong interest in conservation of the marine environment coupled with sustainable use of the environment and natural resources along with a love of nature and the natural environment, Alice is keen to assist others to achieve their goals in the challenging and changing field of conservation biology.

Keywords/Professional Interest: Sustainability, marine science, biology, sea turtles, community involvement
African Country/Area of Interest: Zimbabwe and coastal Africa
Home Country: Australia

Telephone: +61 416 257 197
Email: alicehurlbatt@hotmail.com
---

Patience Mayaki
Project Manager

A Nigerian by nationality, Patience is a First Class Honors graduate student from the University of Ibadan, Nigeria. She also has to her credit a professional qualification in banking and finance and is an associate member of the Chartered Institute of Bankers of Nigeria (CIBN). Prior to her present endeavor, Patience has had the privilege to work in one of the world's leading financial institutions, Citibank. Her passion for conservation and sustainable development in the area of renewable energy has seen her participate in field expeditions, community projects and academic conferences across Africa, Europe and Latin America .

Patience recently concluded a double degree Masters programme in European Forestry (Finland) and Forest and Nature Conservation (Netherlands) under the European Union Erasmus Mundus Scholarship. She now pursues a postgraduate programme in business administration (MBA) at the TiasNimbas Business School (Netherlands) and Bradford Graduate School of Management (United Kingdom) under a Fentener Vlissengen fellowship for Corporate Responsibility and Sustainable Development. She is also at present the North African regional representative for the International Forestry Students Association (IFSA), headquartered in Freiburg, Germany.

Naturally, her enthusiasm to see that young African women conservationists have the right platform to develop their potentials drives her commitment as first the Funding Database Manager and now as Project Manager for the Young Women Conservation Biologists group.

Keywords/Professional Interest: Renewable energy and finance & policy
African Country/Area of Interest: Botswana
Home Country: Nigeria

Email: patiencemayaki@yahoo.com
Telephone: +31 (0) 614 323 548
---

Camille Rebello
Member at Large

Camille has worked on numerous environmental projects worldwide - mapping wildlife corridors in Belize, turtle conservation in Costa Rica, research analysis for GEF in East Africa, running a rainforest biodiversity monitoring and conservation project in the Philippines and working on the rehabilitation of abandoned limestone quarries in Kenya. Since starting at Yale's School of Forestry and Environmental Science, Camille has been working with the Permanent Mission of Papua New Guinea to the United Nations, a position that has exposed her to numerous global environmental issues from a political perspective.

Keywords/Professional Interest: Ecosystem services, tropical forestry, ecosystems and biodiversity, global environmental change, conservation finance, Africa, Asia Pacific
African Country/Area of Interest: East Africa
Home Country: Kenya

Telephone: +1 646-709-2818
Email: camille.rebelo@yale.edu
---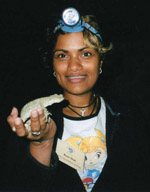 Bansi Shah
Chair

Bansi has a degree in Zoology from the University of Sydney in Australia. She has a keen interest in reptiles and particularly behavioural interactions. She has conducted research and conservation projects; most recently on the endangered Carnaby's Black-Cockatoo, endemic to Western Australia. The project resulted in management recommendations to the state and federal governments to assist with conservation of the species. Bansi has participated in many research and conservation projects ranging from studies on forestry practices and fauna surveys to endangered marine flatback turtles and the Australian platypus.

She also has a strong interest in issues surrounding climate change, and was personally trained by Al Gore to give his climate change presentation as featured in his movie, "An Inconvenient Truth." Bansi is now involved in a number of conservation projects in Australia and Africa. She also runs an Ecotourism business called Conservation Safaris, and is involved in climate change issues such as carbon sequestration in Africa.

Keywords/Professional Interest: Biodiversity, climate change, reptiles, carbon offsets, grassroots & community-based conservation
African Country/Area of Interest: All of Africa, especially East Africa – Tanzania, Kenya
Home Country: Australia

Telephone: + 61 417 685 505
Email: bansi@CSWildlifeFund.org
Website: CS Wildlife Fund and Conservation Safaris
---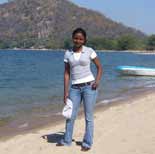 Mahlet Shebabaw
Secretary

Mahlet studied Applied Biology at Addis Ababa University and continued for a Masters degree in Environmental Management at the University of the Free State in South Africa. She was part of an Earthwatch fellowship that took place in Malawi thanks to the YWCB.

I am currently busy with my thesis which focuses on community perception towards resource use and management of one of Ethiopia 's national parks in the Rift Valley region.

African Country/Area of Interest: Ethiopian Rift Valley system and the entire Africa
Home Country: Ethiopia

Telephone: +27760239331
Email: phillista@yahoo.com
---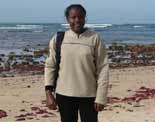 Phillista Malaki
Resource Manager

I have a Bsc in Natural Resource Management from Egerton University, Kenya. My passion for biodiversity conservation led to a Tropical Biology Association (2001) scholarship to attend the Tropical Ecology field course at Kibale Forest, Uganda. I later joined the National Museums of Kenya where I volunteered in the Ornithology Section before I earned my masters scholarship to study in Addis Ababa, Ethiopia (2002-2004) where I took a course in Dryland Biodiversity. It's through my massive scientific contribution that I later became employed by the National Museums of Kenya as Research Scientist (Ornithologist). My contribution to biodiversity conservation amongst many others includes the development of Ecological Monitoring Tools for the Mt Elgon ecosystem, Ecological Database for the purposes of monitoring the biodiversity of the fragile ecosystem, a number of biodiversity surveys for other habitats and species in Kenya and several studies on wetlands, dry savanna, forests and grassland bird surveys.

My work has been presented in a number of conferences both local and international (Germany, South Africa, Uganda, and Ethiopia). Most of my work has been possible under grants and fellowships, some of which include Conservation Leadership Program, British Ornithology Union, Royal Society for the Protection of Birds (RSPB) Tropical Biology Association; Earthwatch African Scholarship. I currently co-ordinate an online bird database for collection of bird observations across Kenya. I still look forward to furthering my studies through a Ph.D., especially on land use and how modernization, especially in agricultural landscapes, affects biodiversity.

Keywords/Professional Interest: Biodiversity conservation, ornithology
African Country/Area of Interest: Entire continent
Home Country: Kenya

Telephone: + 254 020 3742131/4 ext. 2331
Email: phillista@yahoo.com